Ryan's Story......
Our son Ryan was born on 04/02/1987 he was a perfect little blond boy weighing 7lb 8oz, we were so happy I had delivered safely as our first child was stillborn. Ryan's father was serving in the army and we moved to Ashford in Kent with our son and at the time I was pregnant with Ryan's sister Kay.
It was around Ryan's 7th birthday and as a family we were living in Cyprus with the armed forces that we realised Ryan's hearing was poor and we were referred to the army E.N.T. specialist who was only on the island twice a year. You can imagine the stressful time as his hearing was affecting his school and teachers were noticing his concentration failing. After a year of appointments the army specialist gave him one hearing aid. Thankfully we were then posted to Germany where the medical services were much better. After one appointment with a specialist there he was diagnosed with a progressive hearing loss and we then decided to see a specialist in the UK which we did, he was given bilateral aids and extra help in school.
Ryan was always a child that would tire very easily, and around the age of 11 we realised that his younger sister was overtaking him in growth, we again took him to the specialists who diagnosed growth hormone deficiency and was prescribed a drug which he had to inject every night to help spurt some growing, he did this with a lot of complaining as he still did not grow, at the same time his eyesight was failing and at the age of sixteen he needed cataract removal from both eyes.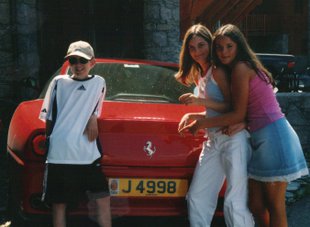 This time in Ryan's life was a worry for all the family as his weight plummeted we considered he may have an eating disorder. It was at this time my husband retired from the army and we settled in Ashford, Ryan's doctor referred him to a neurologist in London and it was her that asked if she could do a muscle biopsy. So yet again Ryan was hospitalised and the biopsy results confirmed our son had Mitochondrial Myopathy a disease we had never heard of. Our first reaction as a family was thank god we know what's wrong with him and we can work on getting him better but as you know this is a debilitating disease that has now left our son wheelchair bound. Since being seventeen he has had a cochlear implant as his hearing failed, he has been diagnosed with epilepsy, his weight is 4 stone. Despite all this Ryan is a happy boy he is a 21 year old trapped in a small boy's body and rare occasions he does cry. On 2nd Dec. 2008 Ryan is back in hospital for yet another op. He will be having a gastric peg fitted so we can feed him everyday through I.V. we are hoping this will give him more energy and the six pack that he says he wants for Christmas.
As Ryan's mum I have found it hard to compile this small story of Ryan's life, I hope and pray a cure for this illness will be found. Thank you for all your hard work.
Update November 2015
Ryan's health has deteriorated, he is now wheelchair bound and although mobile in the house his falling and poor balance is a constant worry.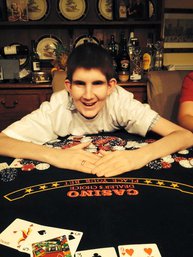 To combat this worry we are in the process of converting our garage to a bedroom/bathroom for him as the stairs are a constant battle for him and he is fearful of falling down them. We believe this is a fabulous way of not only dealing with his fear but also socially as he will be able to wander in and out of our living area as and when he chooses, so for the family the conversion will be a godsend. 

Ryan will be celebrating his 29th birthday in February 2016, a milestone we thought only a couple of years ago he would not make. In 2011 we decided to take Ryan and move the family to Denia in Spain, our reasoning was that the sun and social atmosphere would improve his quality of life.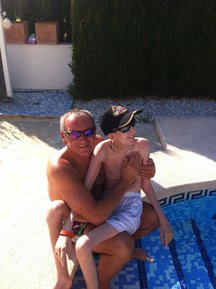 Which it did immensely he loved being able to sit outside with everyone sunbathing and even used to manage doing a few lengths every couple of days in the pool using his floats. This for everyone that knows Ryan gave him bragging rights and he loved telling all family and friends how many lengths he had managed to do each time.

We were in Spain for two years and after bringing Ryan home in the December to see his consultant Dr Rahman at St Thomas's we realised we had to bring him back to the UK. Dr Rahman had a heart to heart with me about Ryan. You see when Ryan was diagnosed when he was seventeen we were led to believe that he could live to a ripe old age with this condition as you are aware this is not the case. We left London in a state of shock as we were told to make Ryan's Christmas that year extra special as nobody can put a time on how much longer Ryan would be with us due to him being as frail as he is any form of infection could take him as he has little reserve left to fight.

That was in the December of 2012 and Ryan is still going strong. He has been fed by PEG for a few years now and only recently I have been giving his drugs through the tube as orally he struggles with tablets. In March of this year Ryan contracted a bad infection due to him aspirating on his feed whilst suffering with a cold, this was a very scary experience for all of us as we were approached and asked about DNR due to prognosis of his condition. Ryan defied all odds however and after a week in hospital joking about his catheter he was discharged.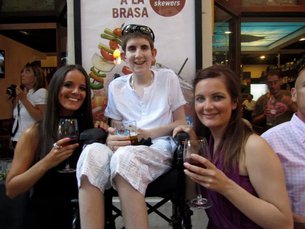 Ryan is unaware of his prognosis as we don't want to put a burden like that in his mind.He is a very happy young man despite all that life has thrown at him. He is constantly cracking jokes and coming out with fabulous one liners that we all like to call Ryan-isms. 

Christmas is almost here which is Ryan's favourite time of year; all our family call him Santa Wilson because of his generosity and fun. And as usual he will be the resident DJ, comedian and poker champion.
I hope this update on our son gives other sufferers and their families hope, as children with the condition can grow into adults and enjoy life
Gillian Wilson Ryan's Mum.