2010-2012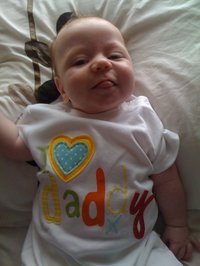 In July 2010 after many months we finally found out we was expecting our first child. We were both so happy to finally start a family.
At our first scan at 12 weeks the sonographer noticed that Dylan's Nuchal Fluid at the back of his neck was thick, normally a sign of the baby may have Downs Syndrome. We were booked in for an Amniocentesis which later turned out to be all clear, no other issues were raised during the pregnancy.
Dylan was born on the 20th April 2010 via a planned C-Section due to the fact he was breach, a position he was in most of the pregnancy. There was very little movement during my pregnancy but Dylan was our first child so I just thought this was normal. We were finally a family, only a few hours old and we were in love, a new kind an UNBREAKABLE Love ….
Due to having the C-Section we had to stay in for the night. Dylan was perfect but we did notice his hands and feet were purple and we were told to keep socks and mitts on him. The next day on the walk round the doctors were doing their checks ready to discharge us. This is when thing's changed for us FOREVER !!!!!
Dylan reaction test drew there attention as he had no reaction in his arm's, they said he was " floppy " and they would like to run some more tests. Dylan also had some feeding difficulties and we spent the week in our own room in ICU.
Dylan's feeding problems never got better and he suffered a lot with chest infections. Due to Aspirating so in 2011 it was decided a NG Tube was to be fitted and a Video fluoroscopy to be done. This did determine that he had an unsafe swallow and a Peg was to be fitted.
In September 2011 this procedure took place and what a difference it made when it was feeding time , no more trip's to get his NG Tube changed….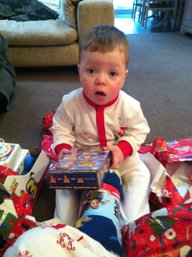 In regards to Dylan's diagnoses we had a few …  " Floppy Baby "  " Truncal Hypertonia" and  "Congenital Myopathy " which was diagnosed after a Muscle Biopsy in December 2010  at Great Ormond Street We were told this was a condition we that wouldn't improve  nor would he deteriorate he would just be delayed in his Motor Skills.
For us Dylan was Dylan!!! He couldn't crawl he just bum shuffled everywhere and to us PERFECT. We had lots of hospital appointments with the Dietitian, Physio, Speech and Language. Also regular checkups at GOSH and our local hospital.
Dylan was making great progress and was able to start pulling himself to standing and walking for his second birthday with help.
In December 2011 what was meant to be a check up appointment turned into a diagnosis appointment where they told us Dylan had Mitochondrial Disease.
That day was overwhelming!!! 3 other professionals attended the appointment Physio, Speech and Language and the dietitian. We found this whole experience difficult and looking back we feel things could have been communicated to us in a better way. We really did not understand what the diagnosis meant.
After Dylan's 2nd birthday he picked up another chest infection. I took him to our local GP but I wasn't entirely happy so I then took him to A+E.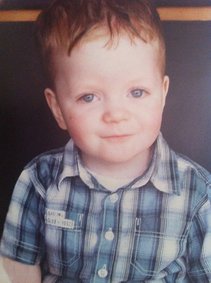 The hospital were concerned about his Heart Rate - 163 on admission on May 9th 2012. Dylan's heart rate NEVER settled just increased, reading 200/210 and his resting heart rate was 183.
Sunday May 13th we were told Dylan was in heart failure we didn't take any of this in but we did call all our family to come and be with us.
That morning Dylan suffered 3 Cardiac arrests and sadly he passed away, with all his family around him.
Dylan was such a special little boy who has touched so many lives
He loved Toy Story and Fireman Sam.
We have since had a little girl called Olivia who is at present is under constant care of GOSH and is showing no sign's but does have a similar feeding difficulties as Dylan
To Infinity And Beyond our beautiful boy, Mummy and Daddy miss you soooo very much
Xxx xxxx xxxx xxxx xxxx xxX