Jack George Bennett 6/2/2010 - 29/3/2011
Our beautiful baby Jack was born at 37 weeks on 6th February 2010 by a straight forward natural birth. He was in such a rush we were only at the hospital an hour before we got to hold him!  Everything was fine and we went home just 24 hours later.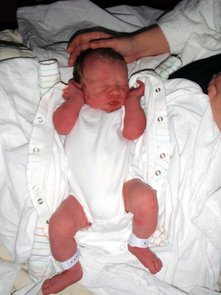 The first 6 months were a haze of the usual sleepless nights with a couple of minor complaints including reflux, wind and right-sided torticollis.  Jack continued to be a happy, smiley baby and was just a little slower than his peers to do things like sitting and crawling.  We had been seeing a physio due to the torticollis but she was happy that his development was within spectrum, albeit at the slower end.  Over the next 6 months we enjoyed seeing our baby grow to be a sweet, fun, gentle natured little boy.
As we celebrated Jack's first birthday we remember thinking that we had got through that first year and that the only things which could hurt him now were external factors, which as his parents we could protect him from.  Sadly just 19 days later we were proved wrong.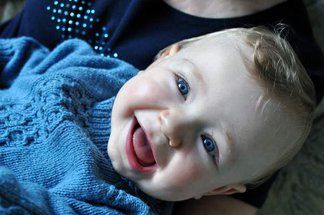 Jack became subdued one morning whilst playing and started to be sick. Once he settled I put him down for a nap and checked on him regularly.  As he started waking from his nap he went into focal seizure and so I called 999 immediately.  The paramedic response was fantastic, arriving in minutes, closely followed by an ambulance.  As they were unable to stop the seizure we were taken to the local hospital.  They also could not stop the seizure with routine medicine and so Jack was given a strong drug which required him to be ventilated.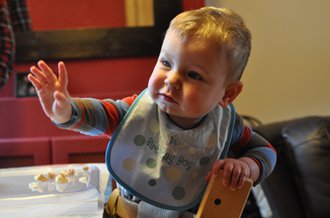 Due to the ventilation we were taken to PICU at Great Ormond Street Hospital.  Over the following 48 hours Jack went through a barrage of tests and drugs as they slowly ruled out illnesses such as meningitis and swine flu.  No underlying cause was found and Jack was successfully removed from the ventilation.  The only test which potentially flagged a cause was a raised liver lactate level and one doctor even mentioned rickets to us!  (We now know that the liver can be one of the first indicators of Alpers). Two days later with Jack eating and sleeping well we were transferred back to the local hospital.
Over the next few days Jack started to have more minor seizures and absent spells but none of which triggered his heart or breathing monitors. He was taken for a MRI scan and EEG but neither of these appeared to show any abnormalities. After 5 days of unexplained minor seizures we were sent back to GOSH and admitted to the Neurology ward.  More tests were run and 2 days later his consultant explained that the continued episodes and hand movements had caused him to look at a particular part of the MRI which the local hospital hadn't.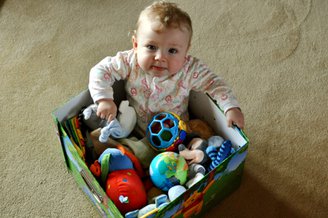 This showed that Jack had actually had a stroke and this had caused the seizures.  It was during this meeting that he told us it was likely Jack had Alpers, a mitochondrial depletion disorder which is life limiting.  This effectively means that the cells in Jack's brain were not producing enough energy and this had caused the stroke.  We were told that most Alpers children do not usually live beyond the age of 10 and that he was likely to have more strokes and slowly deteriorate as his number of mitochondria depleted. 
We then faced a 21 day wait for the blood test results to confirm the diagnosis.  Over the following week Jack started to improve and recover from the rotavirus that he had also picked up.  We desperately hoped that the diagnosis was wrong.  After a 12 day stay at GOSH and with Jack stable on anti-seizure medicine we were sent back to our local hospital to be discharged home whilst we waited for the results.  Sadly, we never got home.  Just the next day, Jack deteriorated again and went back into a seizure they could not stop, also known as status epilepticus. Just 36 hours after leaving we were taken back to PICU at GOSH with Jack back in a coma. The next day we heard back early on the test results and Alpers was confirmed.
Over the next week the doctors attempted to regulate the irregular brain activity that was still going on.  Unfortunately this could not be achieved and the coma had also caused other side effects to Jack's key organs.  On 29th March 2011, less than 5 weeks after becoming ill, Jack was taken off ventilation and passed away peacefully in our arms.
It took 3 and a half weeks to get Jack's diagnosis.  This was a living nightmare of trying to be positive, tinged with fear as we sat cot side in the middle of the night googling his symptoms.  The reality is that this was a quick diagnosis and we feel grateful for this as it enabled us to make decisions for Jack that would ensure his suffering was as minimal as possible.  Sadly, some parents do not have such a speedy diagnosis, or a diagnosis at all.  The work that The Lily Foundation is supporting is invaluable in ensuring a quicker diagnosis for families whose child has a suspected mitochondrial disorder.
We love you and miss you always Jack,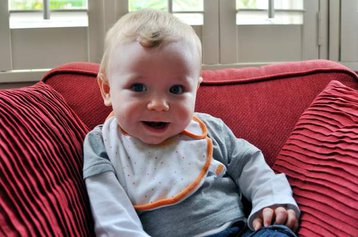 Alison & Steve Bennett