Our beautiful boy, Casper James, was born on the 9th April 2010 - two weeks late, but with no reason to suspect there were any cause for concern. He cried within seconds of being born, passed all his preliminary tests, including hearing, sight, moro reflex and was discharged from the hospital after two days. We were out and about, enjoying the sunshine and picnics from day one. He was happily breastfeeding from day two, crying when his nappy was changed but enjoying his daily baths. He was on a normal feeding, eating schedule, and tended to sleep a good four hours after his nighttime bath. We considered ourselves  blessed, and with lucky parenting skills!
By week 5, however, it seemed that he was not keeping up with his buddies.  We had been told that all babies develop in their own time so we tried not to be overly concerned.  We were looking forward to him smiling, growing and supporting his neck as the others seemed to be doing.  By week 6, we were concerned about his muscle tone, and his increasing tiredness, so we asked the doctor if we could see a pediatrician for their expert opinion. After explaining in depth his symptoms, and after a thorough check-over, he could not see anything visibly wrong with him. We were told that he could have a virus, and to monitor it over the next couple of weeks.
He also started to have strange episodes, where his eyes would become fixed, his arms and legs would go rigid, and he would make a deep 'ooooh' noise. We never received an explanation of what this might mean.
By week 8, things had not improved, and he had not been gaining much weight so we took him back to the hospital, where this time a senior consultant confirmed our concerns - there was definitely something seriously wrong - and recommended he be admitted. We had moved off breast feeding, to bottle feeding, so we could monitor how much he was taking in. Over the following few days they carried out numerous tests, including MRI and EEG scans, blood and lumbar fluid analysis, x-rays and physical examinations - but all tests came back normal, with the only 'tell' being a raised lactate level in his blood. This led the doctors to investigate the possibility of a metabolic disorder.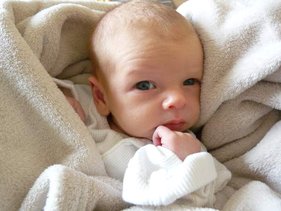 Casper's condition continued to decline. A week later, he suffered a crisis where his temperature dropped quickly, he became clammy and completely unresponsive and floppy. We rushed him to hospital, where his condition was stabilized before he was taken to Southampton Paediatric Intensive Care. He stayed there for 3 days, before being moved to the High Dependency Unit, where he stayed a further five days. During his stay in hospital, the doctors recommended rushing through a skin and muscle biopsy, which we hoped would lead to a diagnosis - at this point, we only had suspicions of the condition.                                                                                                                                            He was able to return to Winchester hospital, but by now he was no longer able to feed from a bottle. He had a nasal gastric tube fitted, and was fed every three hours through this.
During the week that followed, he gained a little bit of weight, but nothing like the amount that he should have, and we clung to any positive signs we could notice - he moved his hips slightly, but still could not lift his head. We took him home during the daytime, but he became increasingly sleepy, and wriggled less. On Thursday 8th July, while in the hospital, he had another crisis - again his temperature dropped, he required oxygen on a ventilator, and to be warmed, and again we went to Southampton Paediatric Intensive Care. This time, he did not recover as quickly - while we had hoped that he may be able to return to Winchester, as he was not able to breathe off the ventilator for several days, we were told that he may not be able to breathe unassisted again. The kind nurses moved us to a private room within the ward, where we could spend every precious moment together as a family.
On Tuesday 13th July we finally received a diagnosis on Casper's condition. He was suffering from Complex 1 Deficiency - a form of Leigh Syndrome. While this made no difference to his prognosis, it at least explained to us what had happened, and gave us some idea as to what our future may hold.
On Wednesday 14th July, we transferred to Naomi House, a beautiful children's hospice just outside of Winchester, where he was taken off the ventilator at 8:30pm. As his breathing immediately became shallow, we were told that he would probably pass away in minutes. However, the little fighter held on, breathing in regular gasps, with the occasional apnoea, until 2.45am on Saturday 17th July, when he finally passed.
He was looked after with love and care until his very last moment. Nothing more could have been done for him. It was the most devastating, heartbreaking 5 weeks you could imagine. It is such a cruel and terrible disease, no parent should ever see their child suffer in this way.
It seems strange to say that we have been fortunate, but since those dark days, not only did we receive a diagnosis, but also found out the gene responsible. 8 months after Casper's passing, we began a special IVF journey (PGD treatment) at Newcastle Centre For Life, which ensured that his condition would not be passed on, and on 4thJanuary 2012, his little sister Amy Louise was born. She looks so like her elder brother, he would be so proud of her. Amy would not be here, if it were not for the work of the Newcastle scientists – work that the Lily Foundation supports. We were lucky to have the diagnosis, other parents who have suffered a similar tragedy deserve a little bit of luck too.
Please visit Casper's website