Anna Lucy Mary Lewis was born on 9 February 2011.  I had suffered from hyperemesis in my pregnancy, as I had with my older daughter Holly (then three and a half) but the pregnancy itself was uncomplicated.  I had been tested for gestational diabetes, because I was consistently large for my dates, but that came back negative.  Anna was born in a birthing pool at 5am, following a labour that was as peaceful as labour can be – just David, the midwife and me in the birthing suite and under dimmed lights.  When she was born, I helped her up to the surface of the water and cradled her in my arms.  She didn't cry, but just looked up at me with beautiful, blinking eyes.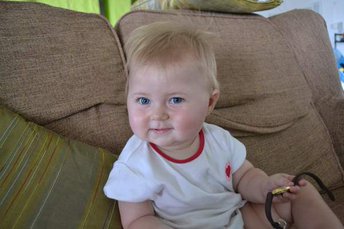 When the midwife weighed her, we were all astonished that she weighed 10lbs 9ozs! (4.785kg).  We knew she was going to be big (Holly had been 9lbs 1oz, already quite big for a first baby) but not that big.  Anna started to feed straight away and we were told we could take her home later that day.
The first six months of Anna's life were spent in the UK, and she was a contented, happy baby.  She slept through the night from 9 weeks and rarely cried in the daytime.  People commented on how content and calm she was.  She suffered from bad eczema from around a month old, and had difficulties swallowing when feeding from a bottle, often coughing and spluttering and being sick afterwards.  The health visitor said that she had 'a degree' of reflux but she wasn't treated for it.  In spite of this she continued to gain weight and stayed on her growth curve.
When Anna was six months old, we had a big upheaval as a family when we moved to Mauritius for my job.  David was to look after the girls while I went to work, and he was excited about this new challenge and the prospect of spending some quality time with them.  Anna started on solids at this time, and like with Holly we made all of her food ourselves, not wanting to feed her jars of baby food.  She seemed much better on solids than she had ever been on milk, and had a good appetite.  The only thing we noticed was that she ate very slowly and seemed to only be able to swallow small amounts at a time.
In terms of developmental milestones, Anna seemed to be on track.  She clapped and waved, pointed at things and generally interacted with us all.  She showed no signs of wanting to crawl, but we were not too concerned because her older sister had never been much of a crawler and had only walked at 16 months.  Still, when we took her for a routine check-up with the paediatrician at 10 months we mentioned this.  She looked at Anna sitting up unaided and was unconcerned; babies do things at different times.  She had also started to stand up next to the sofa and to bottom-shuffle, so we didn't think there was a problem.  Anna had also started to talk, and could say 4 or 5 words.
Our world was turned upside down on 19 January 2012 when Anna was 11 months old.  She had had bronchitis the previous week, which was the first illness she had ever had.  She was treated with antibiotics but didn't seem to have got over it, and for 2 or 3 days had been sick after her meals.  We put her to bed on 18 January and checked on her frequently, worried that she might be sick in her cot.  We checked her temperature, too, but that was normal.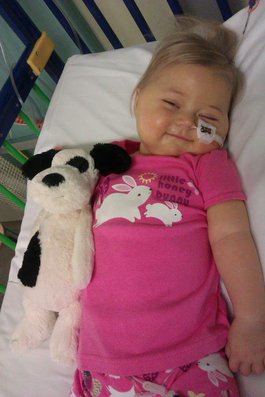 At 2.30am on 19th, we heard Anna coughing and rushed in and lifted her out of her cot.  It was at that point that we realised that Anna was having a seizure of some sort, and called an ambulance.  At the hospital she was taken directly into intensive care where they tried to control the seizures with Valium but they did not stop.  They carried out a CT scan and lumbar puncture, and then told us that Anna would need to be given a stronger drug which would affect her breathing and so would need to be ventilated.  The next thing she would need was an EEG (scan of brain activity) but they did not have those facilities in Mauritius, so she was airlifted that night to a hospital in Johannesburg, South Africa.  I went with her on the most terrifying journey of my life, leaving David and Holly behind (the air ambulance barely had room for my small bag of belongings, let alone the rest of us). I did not know if she was going to make it.
Anna did not do well on the journey.  The cocktail of drugs she was on meant that her blood pressure fell dangerously low and she was started on an adrenaline infusion.  On arrival at Sunninghill Hospital in Jo'Burg, Anna stopped breathing and had to be rushed to A&E for re-intubation.  From there she was admitted to the Cardio-Thoracic Intensive Care Unit (CTICU – there was no Paediatric ICU there) and the Neurological Consultant came to see her.  I asked if Anna might die, and she said it was possible.  She had by then been in Status Epilepticus (an on-going epileptic fit) for 18 hours.  Anything over 30 mins is likely to lead to structural brain damage.
An MRI scan carried out 2 days later miraculously showed no structural brain damage, but we would not know about functional brain damage except over time.  Anna was extubated after 4 days and smiled when she opened her eyes and saw us.  But she remained in intensive care in Jo'Burg for a total of 3 ½ weeks.  She continued to have episodes of repeated focal and generalized seizures, and she contracted a couple of infections, including RSV, and was kept on a large number of anti-convulsant drugs.  These meant that she was very sleepy a lot of the time, but when she was awake she recognised us and her books, and even laughed a little bit.  The hardest part for us was that we were not allowed to stay with her, and only saw her for 3 times a day, 45 minutes each time.
Finally on 12 February 2012 Anna was well enough to be transferred to Great Ormond Street Hospital (GOSH) in London by air ambulance (she was still too critical to go on a commercial flight).  Again, I made the terrifying journey with her on the tiniest of planes and our journey took us via stops in Congo, Algeria and Germany (where we had to change planes and crew) before touching down at Biggin Hill airport in Kent where an ambulance was waiting to blue-light us up to GOSH.
Anna spent 10 days on Tiger Ward, the then neurology ward at GOSH, where she had every test under the sun done – further Lumbar Puncture, MRI, repeated EEGs and endless blood tests…the list goes on.  Her condition continued to be a mystery.  She had no further seizures while there, and the EEGs showed normal brain activity.  She was still being fed via Nasal-Gastric tube (NG), and was beginning to vomit more frequently, but cognitively she was making huge progress and every day we saw more of the 'old Anna' return.  But her MRI showed some abnormal signals in one part of her brain which led the Consultants to suspect an underlying neuro-metabolic disorder.  The tests for these would take weeks to come back, and so in the meantime, with Anna making good progress, she was discharged to our local hospital in Kent.  She was to remain there until her feeding problems were sorted out and until we had organised the relevant community care for her rehabilitation – physio, Occupational Therapy, etc once back at home.  We fully expected her to recover, though we knew that she may have long-term health issues.  We were prepared for that.  We even took delivery of some special equipment for her to use at home (giraffe chair, mats etc).
Sadly, Anna never made it home. She contracted a further two infections whilst at the local hospital and her vomiting became worse and worse.  After a particularly bad period of vomiting in which Anna became severely dehydrated, she was moved to the High Dependency Unit and the doctors agreed that the complexity of her case meant that she needed to be transferred back to GOSH.  Another ambulance journey later and we were back on Tiger Ward.
By now, the Consultants had some more tests results back and Anna's symptoms were becoming more acute and so providing further clues as to what might be wrong.  Most worrying was that she was by now displaying a degree of liver failure.  Her liver had suffered some damage in South Africa because her seizures had been treated with Sodium Valproate, a drug which can attack the liver. But it had now deteriorated quite quickly.  We were told that Anna might be suffering from a form of metabolic disease but there was no definite diagnosis.  The following day, Anna underwent surgery to have a Hickman Line fitted (for permanent IV access into her heart) and at the same time had a piece of muscle removed from her thigh, to be sent off for testing for certain mitochondrial diseases.
Three days after re-admission to GOSH, Anna needing resuscitating on the ward and was taken up to the Paediatric Intensive Care Unit (PICU). A combination of a drug given for seizures (the first in a long time) and pain relief following her surgery had badly affected her breathing and she needed to be put on life support.  She was there for two days before coming back down to the ward.
Three days later, on 16 March 2012, we were given the devastating diagnosis that Anna had Alpers Disease, a rare Mitochondrial disease for which there is no treatment or cure. From that point on, our main priority was to keep Anna comfortable and pain-free.  No one could say how long she might have. The best guess was days or weeks but not months, given her degree of liver failure.  We agreed with the doctors that Anna would not be taken back to PICU. The following week we visited a children's hospice, thinking that it might be better to be nearer home and to have some quality time with Anna and our older daughter Holly, but in the end we didn't have the time.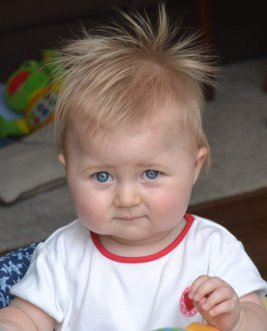 Anna by then had acute liver failure, and in the early hours of Sunday 1 April (Palm Sunday), just two weeks after her diagnosis, she died peacefully in hospital with both of us with her.  It was less than 11 weeks from when she had first got ill.
Anna touched the lives of so many people in her short time with us, and has left happy memories of a beautiful, smiling girl.  To be told, in this day and age, that there is simply no treatment or cure for Alpers, and other Mitochondrial Diseases, is just unbelievable.  So we, her parents and extended family, and friends, will do what we can to change this and to prevent other families from having to endure such a tragedy.