Ted was born on the 25thNovember 2012, at a healthy 8lb 2. We were so delighted to have had a little boy to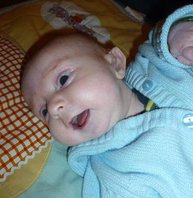 complete our family and Ted could not have wished for a more loving and devoted big sister in Penny. He was a beautiful baby and brought us so much happiness.
At just 5 weeks old we found out that Ted had a Moderate hearing loss and he was fitted for some tiny hearing aids. When they arrived and he heard our voices clearly for the first time his eyes lit up.
Ted always struggled with feeding and his weight started to suffer causing him to be admitted to hospital at the start of February. Once Ted got his Nasogastric tube his weight started to pick up but he still needed further tests. This is when the metabolic team became involved and further investigations began.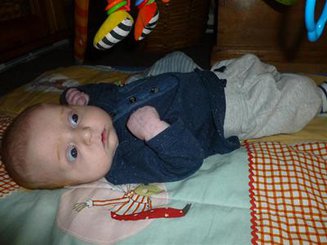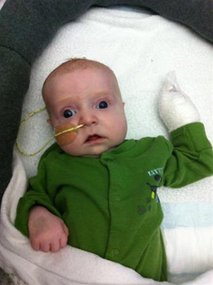 When we got Ted home our family life got back to normal and Ted continued to put weight on well, but unfortunately he came down with Bronchiolitis in the middle of March. This was a massive set back for Ted and he was back in hospital in the High Dependency Unit where he needed oxygen and assistance breathing with CPAP. It was here that we got the results back confirming our fears that Ted had Mitochondrial Disease. It was very scary to see Ted attached to so many machines but we quickly got used to them and it didn't stop us giving him lots of cuddles on our shoulder which was always his favourite position. He loved to lie on a shoulder watching people fuss over him.
Ted's health improved and we finally got him home after a month in Hospital. Unfortunately after one lovely night back at home all together Ted's health dipped dramatically again and we were straight back in and back on CPAP.
We all remained as positive as we could and spent our every moment with our wonderful baby boy when he was in and out of hospital but sadly we lost him on May 11th 2013 when he was 5 and a half months old.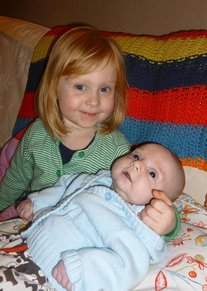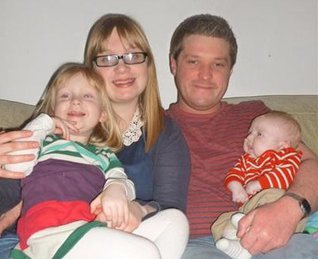 Our aim now is to focus on something positive by raising money and awareness of mitochondrial disease. Newcastle University are still carrying out genetic investigations into Ted's muscle biopsy. We hope that their findings may go on to help others in the future and so we feel it is important for us to help raise money towards the research.
We set up a justgiving page (justgiving.com/Ted-French) after Ted passed away so that our friends and family could make donations. Their generosity helped us to raise over a £1000 and in July we held a vintage bake sale, it was a fantastic day and we raised another £1000. Our wonderful family and friends have supported us throughout everything and have helped us to raise so much money! Our total on the justgiving page currently stands at £2520 but will hopefully continue to grow as we carry on our fundraising.We are doing it in memory of our beautiful baby boy Ted and hope that we are making him proud!