Cory's story began on the 3rd of January 2013, at Harrogate district hospital. Just hours after Cory was born he was admitted to the SCBU unit due to very odd jittery episodes which the doctors wanted to monitor for 24 hours, but after the first day he hadn't got any better and was requiring a NG tube for his feeds.
At that point in time they just thought the feeding needed to be built up, he also had a condition called bilateral talipes of the feet which meant his feet were turned inwards towards his legs like little golf clubs
 which we had found out about for his 20 week scan.
In what seemed like 2 minutes a week had passed and Cory was suffering with a lot of mouth secretions which were very overwhelming for him and started to need a lot of suctioning as he couldn't clear them himself. Within that first week he'd had lots of weird and wonderful tests which all strangely came back negative which would suggest there was nothing wrong with him and left the doctors very confused.

We stayed at Harrogate for a further 3 weeks as he was still under observation mainly from a feeding point of view as every time he took a bottle he turned blue which was very concerning so in the end the doctors decided that Cory needed a gastostromy as there was something more serious going on at the back of his throat. So at just a month old Cory was transferred to Leeds general infirmary to have his first peg sited and for the beginning of his treatment for his feet which involved plaster casting once a week.

A week after his peg was fitted they discharged him home still not knowing any more about what was wrong with him but he seemed to be doing ok with his feeds. Then 5 days later Cory 
suffered a collapse lung due to a severe chest infection and we ended up on PICU at Sheffield as Leeds had no beds. We stayed there 48hours until he was stable, then we were transferred back to Leeds.

On our return to Leeds we stayed there 8 weeks as he was up and down with oxygen levels due to his mouth secretions and whilst we were in further tests were carried out and still everything was coming back negative. Following a Videofluoroscopic Swallowing Study they found little man was struggling to co ordinate his muscles to swallow efficiently and was therefore aspirating onto his chest . He ended up with lots of weird and wonderful medicines which appeared to help and he ended up having his peg changed to a gastro jej feed due to severe gastro reflux which made him a completely different baby he seemed so much calmer although he's never actually cried.

After 8 weeks we finally got to go home again still unaware of what his condition actually was .We managed to stay home 3 weeks before he was admitted again with another chest infection and this time managed to get away after 2 weeks. 

Following that admission we managed to stay at home all summer as he was really well, he still needing suctioning but we had a home machine for that and a nebuliser to open his airways when having a blip.

After a lovely summer the dreaded bugs were back in September and Cory was admitted in October with a chest infection but thi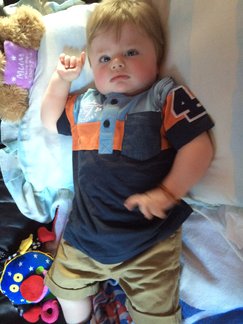 s time he had grown Pseudomonas and was very poorly and really struggled to come off the oxygen. After a further 2 weeks we were discharged but Cory fell really poorly and became unconscious so we had to rush back in an ambulance. Once we hit A&E Cory suffered a cardiac arrest and collapsed but thanks to the wonderful team at Leeds they managed to get his heart beating again but for a few days after it was touch and go he was back on PICU. Surgeons took him down to theatre and opened him up as there had been some questioning as to whether he may have perforated his bowel with the pulling or re inserting of the tube but all appeared normal and a week later he was back to his normal self would you believe and back home.

But then a week on he pulled his tube out again and following it being re passed this time we had to stay in overnight to make sure all was well but the surgeon came and told me her concerns about how often he was pulling his tube so she booked him in 5 days later for a nissens fundoplication so he would no longer need the jej tube to his bowel and wouldn't be able to reflux or be sick but it was a very big operation but I decided it was for the best.

Cory went in that day for his op and was in theatre for 6 hours but came round remarkable well and recovered within a week then returned home just in time for Christmas and was the best I had ever seen him.

But then just after his op Cory had a neurologist appointment. Cory was diagnosed with a possible mitochondrial dise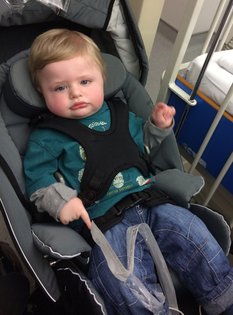 ase which unfortunately there is no cure for but we are still waiting on the genetic diagnosis.

Cory is now 16months old and still fighting strong and proving doctors wrong, but still struggles an awful lot with his secretions which have been made worse recently as he's just started teething. He has also just received a place at Martin House Children's Hospice so we can go away on family breaks as Cory also has a big brother Austin who loves him very much but we find it hard doing things as a family, so Martin House will be a lovely time out for us.

Thank you for letting us share our story!
Sherri Downes (Cory's mum)