Sam was born 7 weeks early in October 2006, but after a few weeks in the Special Care Baby Unit (SCBU) we took home a normal, healthy baby boy.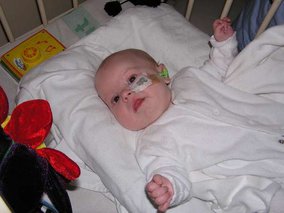 A few months later his feeding declined, and his development slowed down.  At that time we knew nothing about metabolic disorders, so we had no idea that this was the start of a 6-month terminal decline.
Sam didn't know much, but he knew what he liked.  His particular favourites were 'bumpy' walks in the country, his toy sunflower, and cuddles with the World's Best Mum!
For the months we spent with Sam, we're eternally grateful to the very dedicated neo-natal and pediatric staff at Warwick Hospital, and in the Inherited Mitochondrial Disorders unit at Birmingham Children's' Hospital.    
Thanks also to our close family and friends for the support they gave Sam during his short life.
Love
Harriet and Jeremy Worrell