I was 16 when Lee and I found out I was pregnant. My pregnancy was normal and there were no signs that anything was wrong. My bump was very small but none of the health professionals seemed to mention it.
Bailey -Rose was born on the 8/3/12 at 17:22 and she weighed 5lb14oz. Midwives said her temperature was low and she wouldn't feed. As I was planning to breast feed, throughout her first night they took her away to cup feed her and she was put in an incubator at the side of my bed. In the morning the Doctors decided to move her to the Special Care Baby Unit. It was thought she had an infection but her condition worsened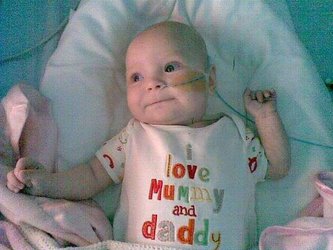 quickly and she was moved to the Neonatal Intensive Care Unit. Tests revealed that Bailey-Rose had no infection and that they didn't know what was wrong. It was an incredibly difficult time as because of where she was, family weren't allowed to see her so I had to turn them away.
The Consultants sat me and her Dad down on my bed on the maternity ward. I remember that there were other people there too like midwifes and doctors, but I don't remember any of their faces. The consultant told us what was happening with Bailey-Rose's body and how they didn't know what was causing it. They seemed to talk forever about nothing that made any sense and then he just came out with the words "she won't survive the night". After that I didn't hear anything else, I looked to the side of me and Lee was crying. I just felt numb.
Her Doctors quickly got in touch with a metabolic consultant from Manchester (we lived in Liverpool at the time) and he thought from her symptoms he knew what was wrong with her. He thought she had Mitochondrial Disease. Bailey-Rose did survive the night and during that first week she had a muscle and a skin biopsy
 to find out for definite what her condition was.
She was 3 months old when we found out the name of what she had. It was Cytochrome Oxidase Deficiency complex 4 in the rmnd1 gene. Although Bailey –Rose would drink from a bottle she didn't take very much. We were also told at this point she was profoundly deaf.
When she was 6 months old Bailey-Rose stopped tolerating feeds and was admitted to Manchester Children's hospital for a month. It was decided she would have an Ng tube on a permanent basis. At the same time we were then told she had kidney failure and that with her condition there was no chance of a transplant as the Mitochondrial Disease would do the same to the new Kidneys. She had to be put on special feeds. Bailey –Rose is and always was a cheeky monkey and she used to pull out her NG tube all the time. She therefore had to have an operation to fit a Gastrostomy tube directly into her tummy.
In 2013 we spent a lot of time in hospital due to tummy bugs and other infections. She also started to have myoclonic seizures.
In February 2014 I fell pregnant with our second child. As we are lucky to have a genetic diagnosis we had a CVS to check for the condition. Our new baby Arabella was born in November and does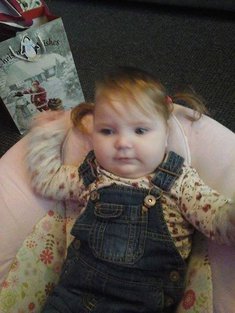 not have Mitochondrial Disease. Bailey-Rose loves her. The beginning of 2014 was a good year for Bailey-Rose but unfortunately with winter comes all sorts of viral infections, which,  with her condition affect her really badly. Currently she is tolerating a lot less feed so we are trying a thickener in it but if that doesn't work she will have to have yet more surgery.
We love Bailey-Rose very much but the experience of having such a poorly child is difficult for the whole family. It has taken its toll on mine and her dad's relationship but we will get through it.
Please help The Lily Foundation help children like our beautiful Bailey- Rose. Help them find a cure.
Chloe Harris (Bailey-Rose's Mummy) xx