Timothy is 10 years old, he was born a healthy baby after a healthy pregnancy and is our second son.
He did appear to have one floppy arm but we put that down to birth position, he came out like superman.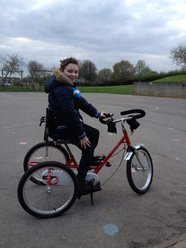 Over the first year he met his milestones but he was a little late at walking and fell over frequently.
As Timmy grew he seemed to be generally weaker than the other children of his age and he struggled to keep his body temperature at swimming lessons. I had my worries about him but kept them inside.
On starting school, his teacher took me to one side and said Timmy was weak in his hands and wrists when holding a pencil.
At this point I took him to our GP, she referred him to the hospital for further tests. Muscular dystrophy got talked about, and other muscular disease but everything came back clear.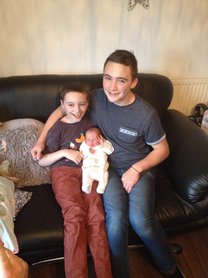 School got more difficult for him and he started having problems with his bladder, he was also struggling to eat and the hospital put him on a high calorie diet.  I decided that enough was enough and we were referred to a Neurology consultant.
Timothy started to use a wheelchair for distance. He struggled more at school, he wasn't eating and was covered in bruises from all the falls in the playground. 
So I finished work and took up home educating Timothy (the best decision ever made), he gradually got stronger as we could feed him properly and he could rest throughout the day. He was always academically bright and he blossomed through home education, one weight at least had been lifted!
We had exhausted the consultants in Sheffield and Timmy was now referred to Oxford, to the "Rare Neuromuscular Disease Clinic". Lots of tests got repeated and new ones took place. We had experts from around the world working on Timmy now and I personally found some comfort in this. I always thought I wasn't doing enough for him, I sat up during the night with him and spent hours googling symptoms on the internet...If the Dr's couldn't find out what was wrong then I sure was going to try my best.
Tim was using his wheelchair more, and he had a long list of symptoms. The team in Oxford booked Timmy into Great Ormond Street hospital and performed the Muscle biopsy under GA, they also did another EMG. He also had a respiratory sleep study done and a skin biopsy. A breakthrough as it felt someone is actually doing something!!
The muscle biopsy revealed excess lipids in the muscle, Lipid storage myopathy and multiple tests were showing enzymes to Mitochondrial Disease.
Timothy is now looked after by the metabolic team in Sheffield and takes Riboflavin twice a day, he seems stable at the moment and we take each day as it comes.
He is the loveliest natured child and everyone loves him, he never complains and is a complete joy to be around and look after. We live for the day, Timmy has an older brother who is 14 years and a baby sister.
We look at our other children and hope they don't get struck down by this dreadful disease, we are part of a Genetic study and hope to find more answers through this one day.
The heartache and sleepless nights that this disease brings to a family is immeasurable, every step has been a fight and still is a fight. Timmy needs a powered wheelchair that will cost £6000, everything is a struggle and a great expense but love keeps us strong.
Alison Haywood (Timmy's Mum)