Sophia was born on 25/09/2014 in St Thomas in London. She spent three weeks in special care due to floppiness but nothing found.
She came home to Newcastle on oxygen and we were told she would grow out of it. We had 10 weeks at home and then I noticed funny eye movements. She ended up in the RVI Newcastle following seizures and breathing difficulty. An MRI suggested Mitochondrial disease. We went on a cruise in April.  On the second day sophia stopped breathing and ended up in intensive care in Spain. We were flown back to the uk where she recovered from pneumonia. After two days at home she started havin seizures again and was moved back into intensive care.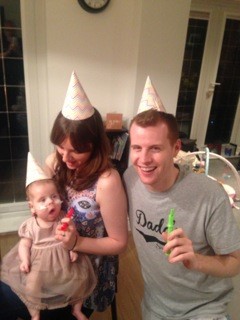 Scans revealed rapid progression of the disease and we decided to switch off life support. We wanted to donate Sophia's kidneys but Sophia stunned everyone by surviving the night and we managed to have four more lovely days with her at St Oswald's Hospice. Sophia passed away on the 22nd May 2015 at just 8 months old. We are now awaiting the results of the Lily Gene Testing. 
Michelle (Mum) Anthony (Dad) and Baby Sophia