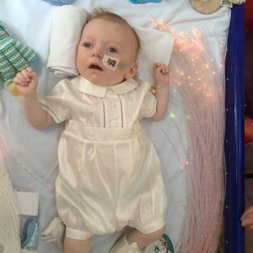 Billy Thomas Atkinson wasborn at 3am on the 29/1/15. He was perfect!!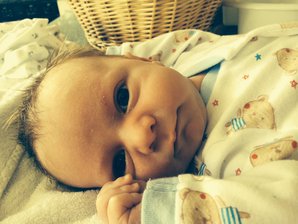 Billy had anflaxic shock at 3 weeks after trying formula for the first time and had to be resuscitated and we spent a week in hospital till we were allowed home and being told he was highly allergic to dairy.
Billy got to about 12 weeks old he never seemed to meet milestones like babies at the same age,he never took to the bottle well, no head control and his eyes didn't seem right.i kept taking him backwards and forwards to Drs but they said he was fine as I was a first time mum they thought I was paranoid!!
2 weeks later Billys seizures started and I rushed him to walsgrave hospital where his feeding got worse and his breathing and he soon deteriorated and he was intubated and transferred to birmingham children hospital where he spend a week in picu.
He puzzled everyone!!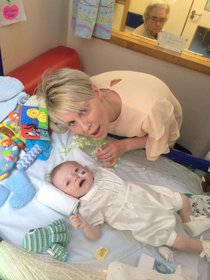 He had a MRI and it showed damage to the basal ganglia but they were not sure if it was from where he had stopped breathing at 3 weeks or something else. My poor boy was getting worse with dystonia and the sleep apnea.The Drs suggested metobolic something we had never heard of. So they decided to take a muscle biopsy something that would take weeks to get results for.i new I would lose him before we would get them back..
Tuesday the 24th June we had Billy christened in the hospital chapel such a beautiful day filled with those that loved him so much.That Thursday he got a lot worse his temperature had dropped and they prepared us for the worse and asked us what we wanted to do??either put him on a life support machine or take him to hdu where we could make him as comfortable as possible till we said our final goodbyes,we decided to do that as we didn't want him to suffer anymore.
We Sunday the 28th June with me lying by his side Billy slipped away.
2 weeks after Billy passed away we had the results back. Billy had leighs disease NDFSU4
I'm a carrier and so is Billys daddy
Billy made me so proud X