Maxwell was born on the 14th January 2012 weighing a healthy 8lbs 5oz with big blue eyes. He was the perfect baby boy.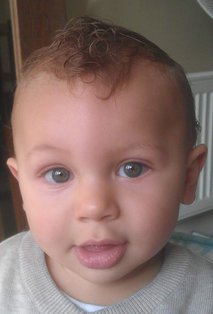 Maxwell continued to grow and develop like any other baby.  He always enjoyed his food, being breastfed until 6 months before moving on to solids.  He learnt to sit from 5 months old, had good head control, was always smiling and was a very good natured baby.  We didn't have any concerns with Maxwell's development until he got to about 8 months old.  We noticed that he wouldn't really bear weight on his legs.  We took him to the doctors and they didn't think it was anything to worry about, but to be safe they referred us to a paediatrician. The appointment came through for the 25th November 2012.
On the 10th November 2012, Maxwell had been off his food and drink which was unlike him; he also had a red rash.  We decided to take Maxwell to A&E as he just didn't seem right.  The first doctor we saw in A&E said he thought Maxwell was fine but would get the paediatrician to check him over.  When the paediatrician saw Maxwell, he admitted him straight away.  Once on the ward, we saw another doctor who said Maxwell had really bad tonsillitis. They gave him antibiotics and told us we could go home on Monday.
In the early hours of Monday 12th November, Maxwell aspirated on his milk whilst in hospital. He then had breathing difficulties and had to be ventilated.  Maxwell was transferred to St Georges intensive care unit in Tooting (London).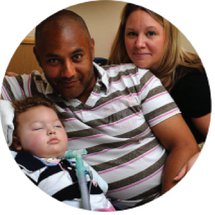 In St Georges, Maxwell has undergone Muscle Biopsy, Lumber Puncture, MRI scan, EMG, blood tests, and ECG. The results from the Muscle Biopsy came back on January the 18th and Maxwell was diagnosed with Mitochondrial Disease.
The doctors informed us that Maxwell will never be able to breathe again without ventilation, so we decided to put Maxwell through an operation on the 31st January 2013 to fit a Tracheostomy, which means he will be connected to a ventilator 24 hours a day for the rest of his life.
We spent 4 months in St Georges hospital, then got transferred to Brighton Hospital and spent another 4 months there. Maxwell was finally discharged home on the 29th July 2013.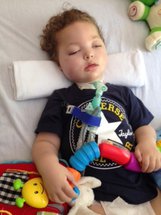 My husband and I have very quickly had to learn all over again how to look after Maxwell.  Maxwell loves being at home we take each day as it comes.
We don't know what the future holds for Maxwell, but one thing we do know is that we will enjoy every moment we have with him and love him forever.