For me, her mummy, Florence's story starts on the 31st July 2005
That day I gave birth and lost our son Sam. At not quite 23 weeks, our pregnancy went tragically wrong and we were told our son would die.  I felt we were the lucky ones…we had two beautiful, healthy children George (born 2001) and Olivia (born 2002) and whilst we were sad to not have been able to meet Sam, we were thankful and grateful for our existing two.
The death of a child at any age puts pressure on a family, but determined to live on and be strong for George and Olivia, we put this tragedy behind us and moved on to pastures new.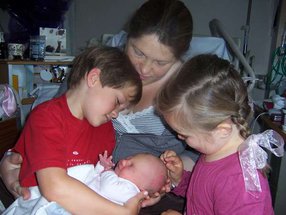 After settling in Gloucestershire for 6 months we discovered we had been blessed with a second chance and Florence arrived 9 months later on 21st August 2007.
I won't lie, the pregnancy had been difficult, medically all was well, psychologically I worried; I worried something might go wrong, that we may lose this baby, I worried we may not be ready; I worried for George and for Olivia. However to all of the families' enormous relief Florence arrived safely…to the absolute delight of her brother and sister.
So delighted were we all, that George and Olivia were allowed to give her ANY middle names they wished…Florence became…Florence Jessica Silver Leigh Maiden…I could not have imagined a more loved and hoped for child.
All the mums on my ward asked what magic I had that meant she didn't cry…I felt proud and delighted that my beautiful baby slept and fed and slept and fed.
We spent 5 days in hospital largely for me to recover from the caesarian and her arrival home was met with relief and delight from all.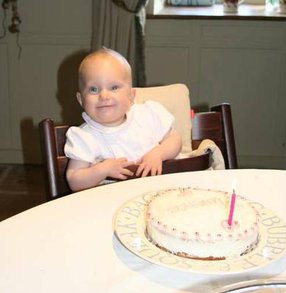 She was a delightful baby, all that met her commented on her wonderfully knowing eyes, they spoke softly when she looked at you and we all felt a comfort with her presence.
Her first 3 months were pretty uneventful but as Christmas approached something became apparent to me that didn't add up, her gripping became acute and I knew she was in pain, her sore bottom didn't clear up and I just KNEW something was wrong.
This was to be the start of the most tragic part of the whole story.
I knew there was something wrong, I was her mummy, but do you think I could persuade a doctor or even a consultant pediatrician?
2008 began with appointments to the consultant, I was advised to give Florence Calpol for the pain and make sure I washed her bottles properly and sterilized them.
I went to a private consultant with Florence to have tests, any tests, I didn't care, I just wanted answers, she was now 5 months and was not keeping to her growth chart. For 4 months I persevered pushing for tests, and being met with what felt like criticism. I had to keep a food diary for her, seek advise from feeding specialists and was finally told that Florence was small because I wasn't giving her enough calories!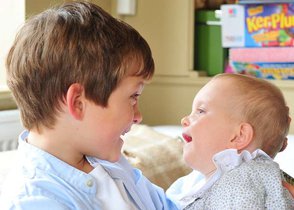 I was a mother of 3 children, I felt I knew what I was doing but my loss of Sam in 2005 and my "obvious distress, depression and paranoia" was effecting my care for my daughter.  I thought I was going mad!
It was my health visitor who, after Florence's 9 month check, raised a red flag and confirmed that she agreed with me that there was a decline in Florence's basic skills.  Finally, I thought, it's not me, someone will take me seriously and help find out what was wrong.
At around this time, between her 9 month check and her first birthday, I noticed that when I went in to see her on my way to bed, she looked grey and pale.  I took her in to my GP's surgery the following morning and was told there was nothing wrong and that I should stop working myself up into a state.  All this time we waited for appointments to come through from consultants, I spoke weekly with my health visitor and she kept me sane.
Florence's first birthday came and went and we planned to celebrate her birthday jointly with her baptism on the 8th September 2008.
I will never forget Sunday 31st August 2008.  Our vicar had called in after church to discuss arrangements for Florence's Baptism, we had tea and I cried and cried, I was just exhausted with not being believed and with not being taken seriously, I felt I had no where to turn.
That afternoon when I woke Florence up from her afternoon nap her breathing was labored and erratic.  I picked her up put her in her car seat and drove to A and E, I was determined that someone was going to see what I see and finally believe me.
That was the start of the end.
The doctor who was on duty, who had never seen Florence before was astonished with what he saw and was adamant that Florence was not suffering from malnutrition or "failure to thrive" his words were that he had never seen such a well looked after baby and immediately transferred Florence to Cheltenham.
I remember feeling strangely relieved that someone had listened to what I had to say and was now trying to comfort me.
At Cheltenham a young new doctor sat and listened to me, I sobbed and sobbed with exhaustion and relief that I was there because someone else had felt it necessary, rather than because I had demanded it...
I talked about Sam and as she listened I could almost hear her cogs turning, she explained she wanted to proceed with a lactate test, but needed to get the Registrar on board (it is apparently a complicated blood test needing to be put on ice and it was getting late in the day), and she mentioned that she thought the death of Sam and what was happening with Florence could be connected.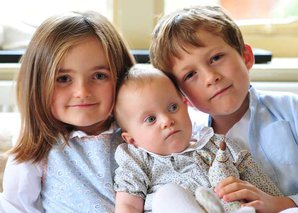 Thankfully the Registrar listened to this new doctor (it was her first week on a children's ward!) They were sure it would come back negative, but wanted to rule it out.
It came back positive and Florence was transferred  to Gloucester Hospital!
The following morning Florence saw the Paediatric Consultant.
I will never forget how he held her up to the group of young doctors and students with him and almost sounded cross that we had been told she was malnourished and small because we weren't feeding her enough calories. He explained that he felt she looked a picture of good health and was sure that she was this way because of our persistent and constant care, rather than our negligence.  Of course by now, he knew her Lactate levels were high and knew that she was likely to have a metabolic disorder but we were still very much in the dark.
He explained, as best he could, that the process from now would be long and there would be no easy solutions or quick fixes. I think I knew then that if she hadn't progressed or grown in her short life whatever it was that she "had" so to speak, was pretty aggressive and I couldn't see how she was going to live without growing.
He suggested that Florence was transferred to Oxford, to the children's hospital at The John Radcliffe and we were warned that her stay would probably be lengthy.  Once there we were given the choice of taking her home and bringing her back every week or so, or staying put for a few weeks so that all of the assessments and tests could be performed as swiftly as possible.  We opted for the latter!
I cannot fault the care we were given during those 2 weeks.  Yes there were days we could have screamed with frustration because no one would tell us how long we had with her, but it soon became apparent that the Consultant Neurologist was also suffering from a huge lack of information or research on Metabolic and Mitochondrial disorders.
The field is so complex and funding so poor, that they are only beginning to scratch the surface of diagnosing this condition let alone treating or preventing it.
By the end of the 2 weeks we were told it was unlikely Florence would live to see her second birthday.  She was now nearly 13 months old.
Florence died at home in her Daddies arms on 28th November 2008.
She was 15 months old.
She was the most content little child you could ever have wished for and on the night of her death, exhausted with life as she was, she still wrinkled her little nose and smiled.
I could not have been prouder and more relieved as she slipped away, that she was now safe and free from any pain or discomfort she may have been feeling.  And that this unpredictable and devastating disorder could no longer rule her short little life.
Susie Maiden