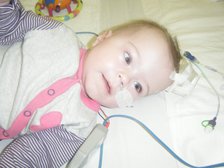 Freya was born perfectly healthy after a normal pregnancy on 25th September 2009 but she immediately struggled to feed and failed to gain weight.  She was diagnosed with reflux and a blood test showed that Freya was anaemic but they didn't know why. I also noticed that she had no head control and seemed floppy, my instincts told me that something was not right.
After several visits to the Doctors and hospital, in January 2010, at the age of 4 months, Freya was clinically diagnosed with Mitochondrial disease which was later confirmed with a muscle biopsy. We were told that the earlier symptoms present then the worse the disease tends to be and Freya had presented from birth. Her symptoms included failure to thrive, reflux, hypotonia, lactic acidosis and global developmental delay.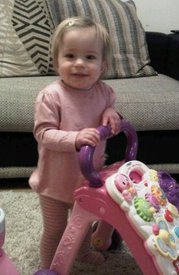 We were devastated but held on to the hope that Freya would prove everyone wrong.
We were right…
After an awful first 18 months-2 years of her life with numerous hospital admissions, tests, false hope and tears, Freya started to turn a corner. Although progress was slow at first, Freya's determination saw her psychical ability improve massively; she learnt to sit up, crawl, cruise and then walk!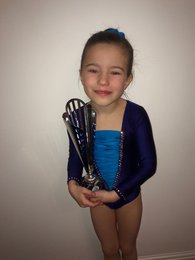 We then struggled for the next year with Freya's weight gain; she was smaller than average and generally hated food and mealtimes with each one becoming a battle which often resulted in tears (ours and hers). But this also started to significantly improve in time, just as we were about to begin the process of accepting a feeding tube, Freya had other ideas and decided to start liking certain foods and although very fussy, this led on to trying more and more. Now she can't get enough of food and is an average weight and height for her age. Something we could only have dreamt of.

Today (April 2016), Freya is 6 and a half years old and shows no obvious signs of the disease. She is the most caring and happiest little girl I have ever known and we are so proud of her and what she has achieved.  Freya attends mainstream school; she loves her swimming lessons and enjoys her weekly gymnastics classes already winning a gold and silver medal, hoping to follow in her sister's footsteps!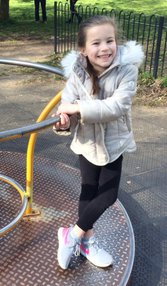 However, despite Freya's improvements, as parents we still need to be realistic and understand that she still has mitochondrial disease. A repeat muscle biopsy 2 years ago confirmed that although there is an improvement, Freya's muscle is still showing abnormalities which even surprised the professionals, although all agreed that the turnaround in her symptoms is remarkable.
 
Freya's exact diagnosis is still unknown but testing is ongoing, we hope one day we receive the news that a genetic cause for her disease has been found but we are just so lucky that Freya is here with us and we treasure every precious moment that she is well. As a family, we will continue to raise awareness and money for research into this devastating disease and hopefully give some hope to families by sharing our story.
Gemma and Andrew Cooke x