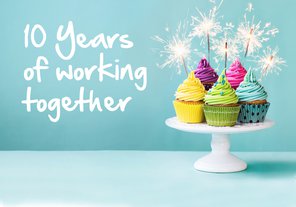 The Lily Foundation was founded in October 2007 by Lily's family, after she sadly lost her fight with Mitochondrial Disease aged just 8 months . After her diagnosis, they quickly realised there were no support networks or charities dedicated to finding a cure for Mitochondrial Disease, so they set up The Lily Foundation to make a difference to other families.
The Lily Foundation is a very small charity, with just 7 part time staff but together we have come so far in 10 years.
10 years ago: There was hardly any research into Mitochondrial Disease.
To date: We have invested over £1 million into research and we have 5 dedicated Lily funded research scientists. Over the next 3 years we will be committing £600,000 into finding treatments for Mitochondrial Disease.
10 years ago: There was virtually no genetic diagnosis.
Today: Over 60% of our families are getting answers.
10 years ago: There were no specialist mitochondrial nurses.
Today: There are!
10 years ago: There was only 1 family in The Lily Foundation.
Today: We support over 300 families.
10 years ago: There were no family support events.
To date: We have organised 3 family weekends, which are now an annual event bringing together the families, doctors and researchers.  It is an amazing weekend during which we get the opportunity to spend some time with the most inspirational families and one we wish that everyone could experience to see exactly how amazing the children and young adults are that we support. In addition to this we also send our families on short breaks to Center Parcs , help fund hospital accommodation around the country and part fund specialist equipment that families may not be able to afford themselves.  
We are achieving great things, but of course we need to do more. Maybe you could do something special in 2017 to celebrate 10 years of The Lily Foundation, be that taking part in an event or organising something yourself.
Without you we would not have achieved so much.  With your support we are looking forward to what the future holds and giving hope where once there was none. Thank you for everything you do.