Elamipretide (Bendavia, MTP-131)
What is Elamipretide?
Elamipretide, also known as Bendavia or MTP-131, is an injectable drug developed by a U.S based pharmaceutical company called Stealth BioTherapeutics.
It was initially developed to protect against a special type of tissue damage which is caused when there is a sudden return of blood to an organ after there has been a lack of blood (this commonly happens on recovery from a heart attack or following organ injury).
This damage is called 'reperfusion injury' and is caused when the mitochondria suddenly over-work to restore the balance in the cell. This can generate an overflow of damaging oxygen species, known as free radicals, which can trigger wide-scale tissue damage and cell death.
How does it work?
In several pre-clinical studies, the systemic delivery of elamipretide has shown that it reaches the inner mitochondrial membrane and targets a part of the membrane critical to maintaining mitochondrial function and cellular energy supply. This is challenging because it is difficult to develop drugs that will pass through both the cell and outer mitochondrial membranes.
What is it supposed to do?
Elamipretide is thought to treat dysfunctional mitochondria by restoring energy production and reducing the production of harmful free radicals. In turn, this is thought to increase energy supply and reduce cell damage and death.
Is it a cure?
Unfortunately not. Elamipretide cannot correct the underlying genetic defect that causes Mitochondrial Disease.
What types of mitochondrial disease could it treat?
Elamipretide is currently being trialled in patients with a diagnosis of mitochondrial disease and mitochondrial myopathy (muscle weakness).
Have there been any trials of Elamipretide?
A phase 1/2 clinical trial, known as MMPOWER, was performed to evaluate the safety, tolerability and efficacy of elamipretide in 30 patients with mitochondrial disease and mitochondrial myopathy. Initial positive results were published in 2016. The findings demonstrated statistically significant improvements in 'distance walked in six minutes', which is an accepted measurement of functional exercise capacity. This improvement was seen after five days of treatment with elamipretide.
Dr. Amel Karaa, the trial investigator and clinical geneticist at Massachusetts General Hospital said "These findings demonstrate the potential for elamipretide to help improve their ability to perform everyday activities. We look forward to further study of this compound in upcoming trials of primary mitochondrial disease."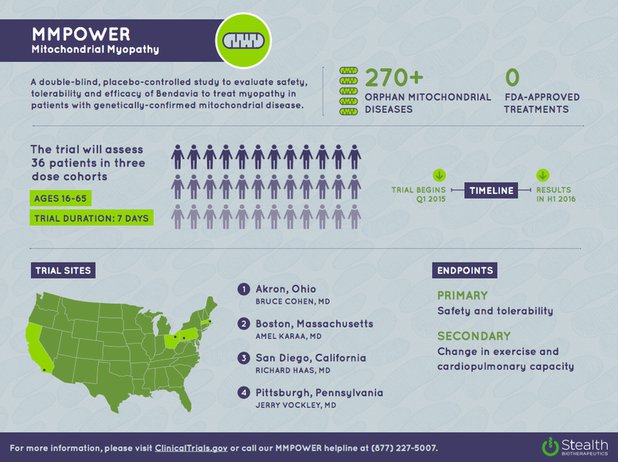 You can read the press release [http://www.stealthbt.com/stealth-biotherapeutics-reports-positive-elamipretide-data-first-kind-primary-mitochondrial-myopathy-trial/] for more details.
What is the latest update on this trial?
The results of a follow-on phase 2 clinical trial, known as MMPOWER2, were announced in June 2017. In this study, patients who took part in the initial MMPOWER trial were given elamipretide for a longer treatment period of four weeks. This showed further improvements in 'distance walked in six minutes', although the results were not statistically significant. Detailed analysis revealed that elamipretide had most benefit for those who were able to walk the shortest distance before treatment.
You can read the press release [http://www.prnewswire.com/news-releases/stealth-biotherapeutics-presents-phase-2-data-from-mmpower-2-continuation-trial-supporting-phase-3-development-of-elamipretide-in-primary-mitochondrial-myopathy-300481538.html] for more details.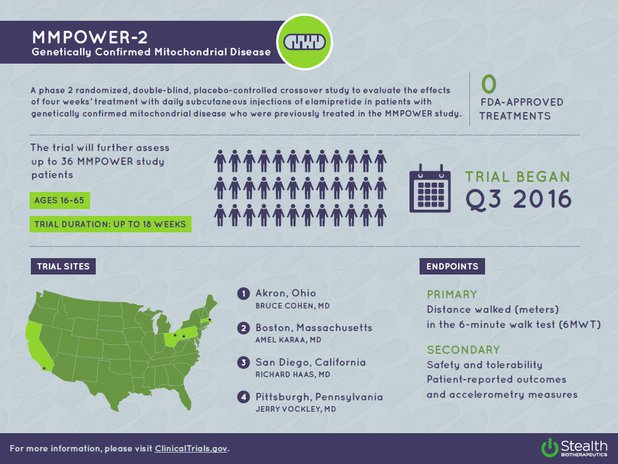 In March 2017, Stealth started a multi-national pre-trial registry of patients with mitochondrial myopathy called RePOWER. The aim of this was to obtain information that would help inform a phase 3 clinical trial and to date, over 400 patients have been enrolled across 29 sites (including 2 in the UK - London & Newcastle).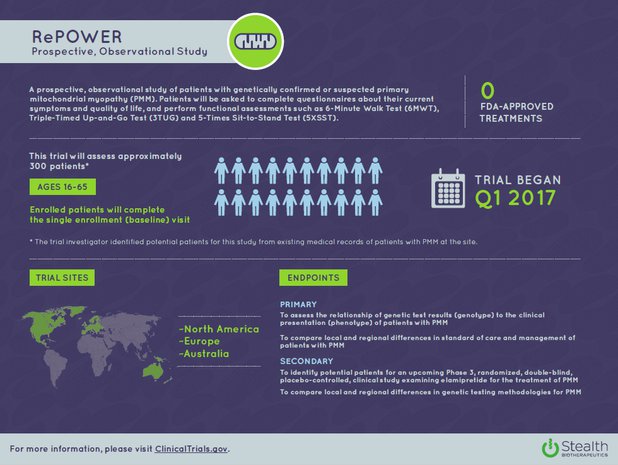 What next?
Patients enrolled in RePOWER are eligible for recruitment into a phase 3 trial, known as MMPOWER3, which began in October 2017. This is a 24 week, randomised, double-blind, placebo-controlled, parallel study to examine the efficacy and safety of Elamipretide in the treatment of patients with mitochondrial disease, and will be followed by an open-label extension of up to 144 weeks. Patients are being actively recruited in the UK through both Newcastle and London and results are expected in late 2020. For more information:https://clinicaltrials.gov/ct2/show/NCT03323749?term=SPIMM&rank=4
Other Info
In October 2017, Elamipretide was granted 'orphan drug' status by the FDA in the US. This aims to advance both the evaluation and development of drugs that have the potential to treat rare diseases and should make it easier for Elamipretide to gain marketing approval.