Bridie was born on 7th January 2009 weighing 9lb 6½. Bridie had the most beautiful eyes and long eye lashes,  beautiful unmarked skin, she was just perfect. Bridie had the perfect year, developing normally, she slept through the night from very early on, it was a delight and Bridie was a pleasure to be with, we were such proud Parents.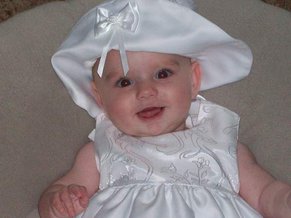 On the 21st June 2009 Bridie was baptized. During the year I joined a local Children's centre and met a mothers group who we spent a lot of time with, Bridie loved it, she loved being around people. Bridie loved clapping, music, laughing, smiling, crawling, rolling around, sitting up and could say, Dad, Nan & Mum.
Bridie never explored or was never really adventurous; she always laid or sat by my side. Bridie could hold her head, roll from side to side, sit up, crawl but her best position was lying on her back. We just thought that Bridie was laid back, everyone commented on what a good baby, and how lovely she was.
From the 1st January 2010 Bridie developed a chest infection, it was very scary as it was the first time that Bridie had been ill since she was born. Bridie was so unwell at one point that we had to call an ambulance, we were scared that she couldn't breathe. The Paramedic arrived and after an hour of checking Bridie over he said that it was nothing more than a sickness bug. At the time Bridie has 6 teeth coming through.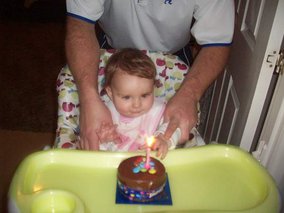 We were so Proud of Bridie and it was such an honor for us to have been able to have celebrated Bridies first Birthday on the 7th January even though she was still unwell. Bridie developed an Ear infection on the 11th February, followed by a viral infection and then sickness bug on the 26th February.
The following day on the 27th February when being treated for the sickness bug Bridie developed a twitch in her left foot. This was to be the start of a 12 hour seizure that was uncontrollable. It led to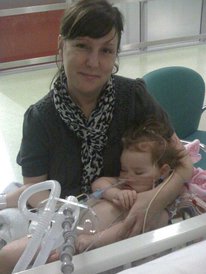 Bridie being taken to Darenth Valley Hospital and then after a few hours of being at Darenth Valley she was moved to the intensive care unit at the Evelina Children's hospital in London at which point she was in a coma. At 3am on the morning of the 28th the seizures were being controlled. Straight away brain damage was mentioned, Herpes, Encephalitis and Mitochondrial disease, It was endless and we were told that we may not be taking the same Bridie home. All this was at the time speculation.
Bridie was in intensive care for 4 days, her life had been saved, Bridie had such invasive treatment, Lumber Puncture, Blood tests, Drips as well as MRIs, EEGs, and it was endless.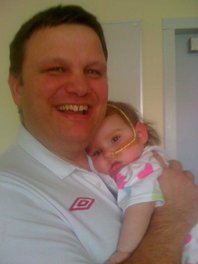 On the 3rd March Bridie went to the Neurology ward still at the Evelina, still a very sick baby with an unknown condition, but out of intensive care. Shortly after being on the ward, Bridie was making remarkable progress, laughing, smiling, playing, grabbing, holding her head unsupported, sitting up assisted and making eye contact.
We were getting our Bridie Back,  as poorly as she was she always managed a smile, that beautiful smile. Soon after Mothers day, sadly she deteriorated once again and was taken back into Intensive care. But this time it was different, she was on life support in a coma. She had all of the invasive treatment again, Lumber puncture, blood tests, MRI and EEG, on top of which she had to have Muscle, Liver and Skin Biopsies and unfortunately more brain damage had occurred.
The consultants were now looking at mitochondrial disease, Alper's disease, a terminal Genetic disease affecting the brain and liver with progressive loss of development, along with severe Epilepsy. There is no cure for mitochondrial disease. Bridies Endless drugs were just supporting the seizures.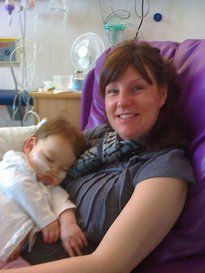 After 9 days in intensive care Bridie went back to the neurology ward. She could no longer swallow, had no control of her head or limbs. She had continuous involuntary movements all down her left side and continuous seizures. Remarkably again after 9 days Bridies seizures appeared to have stopped, she seemed to respond a little and again we sang to her, played, watched TV cuddled and just loved the good days with her which was fantastic.
On the 12th of April Lee's dream of bringing Bridie home came true, home being Darenth Valley Hospital. We left Bridie that night feeling reassured that Bridie was settled and in good hands and that it was the right thing to do. Unfortunately during the night Bridie had had another seizure and deteriorated again, Bridie had now developed Pneumonia which got worse over the next few days.
On the 15th April Bridie lost her battle to the pneumonia. Lee & I were both with Bridie and she died in my arms, As she was dying still able to hear us both, we spoke to her fitting in a thousand words within minutes.
Lee & I were blessed to be able to hold Bridie for 4 hours after she died, we were able to bath Bridie, put on her PJs, wrap her up in a blanket, put on her gloves and gave her her terries, knowing that she was now ready to sleep. Lee & I walked Bridie to the Mortuary where we said goodnight. What an honor it was for us to be able to say goodbye to Bridie in our own time.
We are today still awaiting the results of Bridie's condition. This is though the end of our 7 week Journey, what a pleasure, an honor a delight it was to be Bridie's parents. I am so very proud.
If Bridie was to be alive for just a short time we are proud to say, Bridie was our baby and we wouldn't have changed places with anyone. She will always be in our hearts, body and souls forever. Bridie it was an honor to be there for you, it was the best thing we will ever do as your Mummy & Daddy.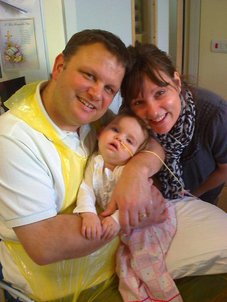 We will love you Bridie Forever. x
2011 UPDATE:
We found out in August, that Bridie's condition was known as ALPERS
2013 UPDATE:
It's now almost three years since we lost our beautiful Bridie, and we miss her so dearly. When Bridie went away, Lee & I could not have imagined having another child, not straight away. Not without Bridie by our sides. We did not know if we could and even if we could, if they would have Alper's like our Bridie. 
Lee and I went to see the team at the Evelina Hospital about the chances of another child contracting Alpers. They told us that there was a 25% chance that it could but with their help and support they would help and guide us through and if I did fall pregnant they would be able to run genetic tests to confirm.
When I eventually conceived we were so scared, scared of not knowing what the outcome might be. I had to wait 13 weeks and then the baby could be genetically tested and then a further week to get the results back, One of the longest weeks ever.
To our delight the results came back and we were told that our unborn baby was not carrying Alpers.
5 weeks ago on the 22nd March 2013 our Perfect little Teddy was born weighing in at 8lbs 7ozs, Now Bridie has a little Brother who will learn about his beautiful sister as he gets older.
Lee and Sue