My Lilliput
When Lily was born she was a little unwell and had to stay in the neonatal unit for a week or so before she could come home. When we got home though we were all very happy, we noticed quite early on that Lily had feeding issues when taking her bottle  would almost always vomit after every feed however this was repeatedly put down to reflux. We were doing ok up until just after Christmas when we felt she was unwell and were afraid of dehydration so we went into the University Hospital Limerick where she was admitted under failure to thrive. The poor feeding had caught up with her and her weight was below what it should be. Lily was fitted with a Nasal Gastric tube and her feed was changed to a high calorie feed and after a few weeks her weight had come up and we were delighted with her. It was hard going to be honest, both for Lily and us. We had to gravity feed her as we didn't have a medical card and therefore no feeding pump. The feeding process involved checking the tube was still in her tummy before and after each feed then attach a syringe to the tube and filling it with her milk approx. 10ml at a time and holding it up so it would trickle down into her tummy. She was still having vomits but it was improving. We went home for about two weeks but Lily had an aspiration (choking) episode at home one morning and we had to call an ambulance and rush her back to Limerick. While she seemed to have recovered OK from this episode she started having seizures while in A&E. She had several more upon admission to the ward and was moved to the High Dependency Unit. This is where everything took off at high speed unfortunately.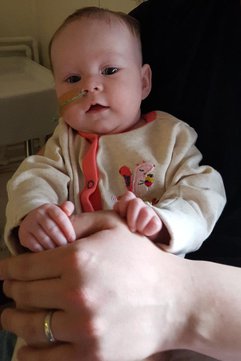 Lily's seizures and movements were irregular and this was noticed in UHL so she was transferred to Our Lady's Children's Hospital Crumlin. While in Crumlin Lily's seizures were monitored while the different teams helping her tried to figure out what was happening. Mitochondrial disease is often misdiagnosed as it can affect several different parts of the body and it can affect each person differently so it really is a hard disease to pinpoint. While in Crumlin I was taught how to change Lily's NG tube so this would save us having to bring her into Limerick hospital to have it changed each week. I was glad not to have to bring her into the hospital each week but it was very hard having to hold your tiny baby down and remove and insert her NG tube each week. Lily had a neurology team, a cardiac team and a metabolic team. She had a speech and language therapist, a physiotherapist and an occupational therapist. She was only 5 months old at this stage! My poor girl had to have blood taken repeatedly, had to be held still for several scans, echoes and CT scans and through the whole lot she was just as wonderful and happy as always. She charmed every single nurse and doctor that met her! The doctors started to suspect Mitochondrial Disease based on her poor feeding and weight gain, her movements and Lily still wasn't able to hold her head up on her own or sit up. Lily wasn't meeting her developmental milestones such as reaching for things such as toys. They had to do a lumbar puncture and this confirmed what we already suspected, Lily had Mitochondrial Disease.
This was the one of the worst days of our life. The doctor explained that Mitochondrial Disease is a life limiting disease and there was no cure. We were told that our perfect little girl who was our absolute world was not going to grow up! She was not going to go to school or get married. We were told most children do not make their teens. I will never forget how the bottom fell out of my world that day. My beautiful Lily who was so incredibly full of light and life and energy. My daughter and world. We were told they suspected a particular type of Mitochondrial Disease called Leighs Syndrome or Leighs Disease. The doctors took blood samples and let us go home. We had to then tell all our parents and family the devastating new but afterwards we decided to get a move on and enjoy her while she was very much still with us.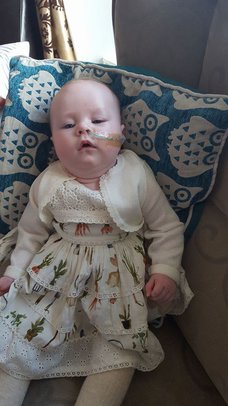 We had an amazing month at home with Lily after this. We finally got a medical card for Lily and then a feeding pump. This meant less stress in feeds and we could now feed on the go too and didn't have to be at home for every feed. It was like a new lease on life for the three of us. She had no hospital visits and she was putting on weight and looked great at this stage. We were lucky to get that month with Lily and to be able to go to the beach with her and out and about with her like other families get to with their smallies. We celebrated Lily's 6 month half-birthday and we celebrated Easter with her and it was wonderful. There were two things we had begun to notice though, Lily had stopped crying and also had stopped smiling which was heart-breaking. I now know this is part of the disease too.
The first week in April we had to go back to hospital with Lily as she had developed a cough. She was in hospital for a week with bronchiolitis and while in hospital we had an appointment with her doctors in Crumlin/Temple Street. It was confirmed that Lily had Leigh's Syndrome and that she was one of three children in Ireland with this condition. These children were aged 5 and 7 and this gave us some great hope. We had researched Leigh's and most babies who developed symptoms early often didn't make their first birthday but this gave us hope. Also Lily had started to pick up some of the skills she lost while being sick. She had started to reach for things now a bit. We went home that same Friday. We had our usual weekend routine where we visited one set of grandparents Saturday and the other set Sunday. Lily went to sleep after her lunch that Sunday and never woke up after that! She was breathing but wouldn't come out of her sleep. We brought her to hospital that Monday and her seizures kicked off again but this time they weren't responding to drugs. Lily stayed going, holding on for 7 more days until Monday the 18th of April, a week after she was readmitted. She had fought hard and held on as long as she could but decided it was time to go. We had all morning with her and all her grandparents had a cuddle with her so did her aunts and uncles. Around 4.40pm that afternoon it was just me and David in the room with her and we were laughing about something between the three of us and she relaxed completely and her breathing changed. We knew then she was going. I cuddled her and David had his arms around us and she took her last few breaths and slipped away. The absolute light of our lives was gone. She was 6 and a half months old.