Aidan's story began on 4th August 2012, which just happened to be Super Saturday of the Olympics.
Daddy didn't mind missing the flurry of gold medals for Team GB that night, instead having the honour of witnessing a beautiful, uneventful water birth of his first Son (Aidan's Mummy may choose  different adjectives though…).
Aidan was a healthy 9lbs 5oz at birth and continued to do all the normal things a baby/toddler would do. This included several trips abroad by plane to Spain and Italy and visits to his Nanna and Granddad's caravan and swimming pool with his big sister Evelyn.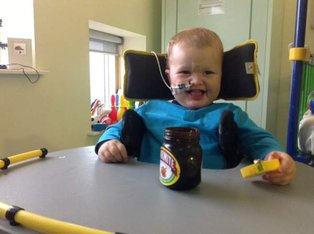 He was a totally normal toddler, meeting all his milestones  approaching his first birthday –  the only worry we had as he approached his First birthday was our increasing weekly food bills (as he ate so well) and keeping him quiet from constant chattering about his favourite love (not Mummy..but Marmite).
This all changed in the summer of 2013. Mummy noticed that Aidan's crawling, whilst perfect until then, had become a strain with Aidan regularly flopping onto his tummy and unable to push himself back up. It had also been noticed that suddenly he had poor neck control.
Visits to the Royal Alexander Children's Hospital in Brighton ensued and after several tests and a stay in hospital there were no conclusive answers, just the hope that Aidan would suddenly be 'normal' again.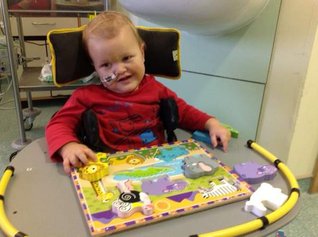 On a hot July evening Aidan was transferred to the Evelina Children's Hospital (St Thomas') in London for a week of extensive testing. MRI scans, EMG tests, x-Rays anything to try and shed some light on our little boy's evident problems. The final test, which the Doctor's always hoped would be the defining  test, was a muscle biopsy, carried out by one of the top metabolic consultants  in the country.
We were advised that Aidan could be discharged home whilst we had to wait anxious weeks for the results of the biopsy. Furthermore, we were warned that the results could take between 2 and 8 weeks. This would have been like an eternity.
To our shock, we received a call within 10 days. We'll never forget that call, advising us that "regrettably" Aidan had Mitochondrial Disease (deficiencies in Respiratory chain complexes I and IV). We had heard 'Mitochondrial Disease' mentioned whilst in hospital, but we'd be lying if we had said we had ever heard of it. That was soon to change though, as after a further full diagnosis of Aidan's condition was verified, the hardest part that we were to learn is that it is rapidly progressive, life limiting and it had no cure. Naturally, we hoped and believed that Aidan was going to prove the Doctors' grim prognosis wrong
This was when we first came into contact with Liz and the Lily foundation, we needed emotional support and someone who knew what we were going through. We found the website emotional but full of information. For the next few months, Aidan continued to do well at home and fared quite well, particularly with his cognitive development. He ate normally, just requiring an NG tube to top up his liquids.
We knew that as his disease was incurable, so we had to treat the secondary issues that were manifesting.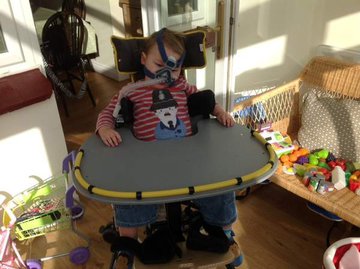 This is an area that, as parents we found frustrating as Aidan was such a bright boy, but his body was failing him. We never knew which way to turn for support, or indeed weren't really offered any within the local community. A head down and make sure Aidan didn't succumb to any viruses was the only direction that we had from the Doctors (chest infections, we were told, being very dangerous for children with Aidan's problem).
Sadly, Aidan contracted bronchiolitis at the start of November 2013. This resulted in a five week stay in a PICU at the Evelina, aggressively treating the infection. Mummy called Liz one morning on the way to the hospital, Aidan's life was hanging in the balance and we needed to hear someone's voice who had walked this path before us. Liz was amazing, just listening and offering support. After 5 weeks Aidan was stable enough to be transferred back to the Alex, Brighton for high dependency care.
Mum, Dad and Family spent Christmas in hospital, where we were told he could be in hospital for a further five months whilst he recovered and the aim was to get Aidan home as soon as practical. Dad had to take extended time off work whilst we all trained for competency at suctioning, cough assist and ventilator support.
Aidan was now deteriorating rapidly, requiring 24/7 ventilation, regular suctioning and being fully tube fed as he was unable to swallow. We felt  the goalposts were always moving, due to the progressive nature of his disease. Endless days of caring for Aidan, punctuated with two precious days where we could take him home, morphed into a laborious, confusing period of time.
Then the bombshell: In mid-February this year, the Doctor's advised us that sadly Aidan would never make it home and we should prepare ourselves for palliative care until the end of his life.
Subsequently, Aidan passed away on 1st March 2014. Daddy had just left his side to see his daughter, Evelyn for a matter of hours, but Mummy was there surrounded by all his favourite nurses.
In the days after, less than two years after registering Aidan's joyous birth, we were suddenly registering his Death.
The Doctors and Nurses have visited at home several times and left us an incredibly emotional book of memories eulogising Aidan. Clearly, he had left a huge impact on the lives of everybody he knew. But we were left asking why? Why such a beautiful, intelligent little boy had to suffer like this.
We will forever be indebted to all the brilliant Doctors and Nurses. They never (and would never) have given up hope on Aidan, but time was sadly not on his side. We are also fully supportive of the work of the Lily Foundation and have thrown ourselves into fundraising for them and the other charities who helped us.
Sleep tight little Aidan, until we meet again….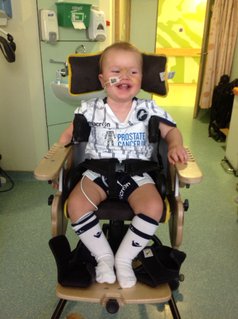 Simon, Lucy and Evelyn Pond