Daniel was born on the 8th July 2010 and sadly passed away at just 5months old on the 6th December 2010.
Daniel was such a happy smiley wee boy no matter what he went through he always had a smile on his face. Daniel started having seizures when he was just a couple of days old he went between Dumfries Neonatal and Yorkhill hospital but after a further 7 seizures he was put on epilepsy medication which seemed to control his seizures.
The paediatrics carried on trying to find out why Daniel was having the seizures as his EEG and ECG came back fine. He had a lumbar puncture and muscle test but nothing showed up. It was after Daniel had passed away that we found out he had a rare metabolic disorder called Leigh's Disease.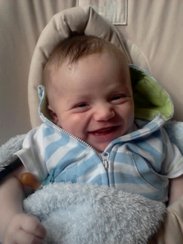 Daniel will always be loved and missed by all his family he is our wee star x
Love your big sister Molly and mummy xxx