Charlie is now 7 but the last 7 years have been a roller coaster ride and then some.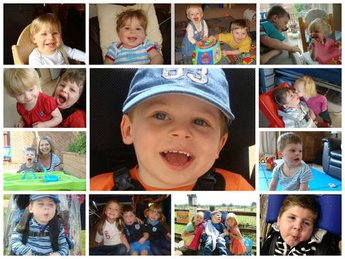 Charlie was born on 5th August 2007 and developed healthily until at 6 months he developed infantile spasms which although settled for 6 months he was eating, babbling, cruising the furniture and on a walker whizzing up and down the living room! At a year old he developed full blown seizures requiring many A&E trips to bring him out of them.

He had a very bad seizure in November 2008 when he was 16 months old. He required heavy medication and was on life support for 5 days in order to bring the seizure under control. We were in Addenbrookes for 6 weeks in total and over Christmas too which wasn't the best but the nurses were fantastic. From this bad episode Charlie lost all muscle tone and required NG tube feeding. 
Eve was born a month after we came home, slowly as the weeks went on Charlie's muscle tone improved greatly and he was able to start eating again and gained some muscle strength. Tests upon tests were performed but no answer as to why he had epilepsy. We had a calm 18 months and although Charlie wasn't a "normal" almost 3 yr old he was improving all the time. 

But.... Just before his 3rd birthday he started developing spasms in his leg and so Docs did a muscle biopsy to test for genetic problems. Unfortunately this twitching got worse and after another bad seizure we essentially 'lost Charlie'. He lost the ability of movement, communication and swallow control. His seizures went through the roof too. We were in Addenbrookes for 3 weeks but this time there was no miracle solution and we came home with a very poorly boy.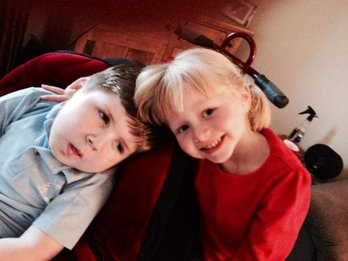 It was at this point that we were referred to Keech Hospice Care. This was so hard as we were having to face our fears that Charlie wouldn't be with us long. We were and still are so grateful for their support to us all as a family and also to the lovely families that we have met there. 

We discovered only this year that Charlie's condition is a mitochondrial disorder which is life limiting, his genetic fault is very rare - my unique boy!

Charlie was attending Greenside school but unfortunately the classroom stimulation was too much for him. They support him at home with fantastic music therapy, also massage and gentle tactile stimulation.

Charlie is now 7 and we continue to live our lives to fullest and most normal family that we can be. We battle each day to keep him well and as happy as he can be, no more smiles anymore which is heart breaking but we do know that he gets comfort from cuddles which is not a problem!!
Eve loves her big brother and is fantastic with him, unfortunately at only 18 months when he deteriorated she doesn't remember riding around the living room on his back and feeding him pom bear crisps. She's now helping with suctioning and chest physio but also gives the best little sister cuddles.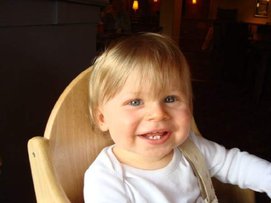 We have recently had a scary episode with Charlie requiring a blood transfusion due to being very anaemic, this may explain why he's had a bad winter with viruses and infection being lower than he should be to fight them off.
Our gorgeous boy Charlie has had a very eventful and very rocky journey, showing his strength which keeps us going xxx