Our perfect little boy was born 10th of August weighing 5lb 1 & 1/2 ounces, he arrived 4 weeks early. He was the happiest baby you'd ever meet.

Kian lost his heart rate as I gave birth and was taken down to ICU. It was only for 12 hours and he was put onto antibiotics for 48 hours. We were allowed home 3 days later. Our perfect family life began - we were on cloud nine.
 

Everything seemed normal other than Kian having a feeding problem, we and the doctors put this down to him being small and premature. Kian began losing weight and soon wasn't even on the graph of his weight chart in the health record book. We went back into hospital again and were reviewed for 48 hours. Kian had his first feeding tube put in and he was put on high calorie milk. He seemed to really enjoy this drinking 3-4 ounces every 3 hours (the most he's ever drank). We began to think things were looking up. However we had recurring doctors and hospital visits due to him losing weight and not feeding as well as he should have been.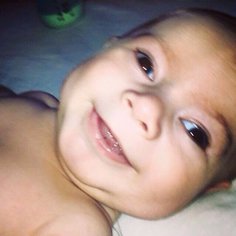 Kian started smiling at 6 weeks and began rolling at 9 weeks which was fantastic but soon after his second lot of jabs Kian began getting poorly again he was rushed into hospital with a high temp of 41.3. He had a lumbar puncture and we were told he had meningitis and put onto IV antibiotics. Kian was soon well enough to come home with us after just 2 days and we were so relieved and happy to be taking our baby back home. A couple of weeks after this Kian's feeding was becoming worse and he was dropping from 3-4 ounces every 3/4 hours to just 1 ounce. Kian slept lots and when a wake still seemed very sleepy, but we were told several times to remember he was small and premature and there was nothing to worry about.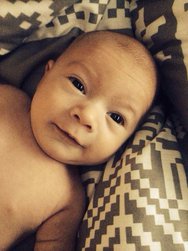 Kian began going downhill after his meningitis. He stopped rolling over, his smile became less frequent  and his eyes began to drift. He was no longer following with his eyes and becoming more floppy. Something wasn't right. I was told on several occasions that there was nothing wrong and I was being a paranoid over protective first time YOUNG mum. I couldn't understand why no one was listening to me. Constantly going to health visitors and doctors every time having an emergency referral.

We returned to our local hospital on January 2nd 2015 which was not the best start to our new year. Kian was only drinking 1 ounce throughout the whole day. Another feeding tube was given to Kian and again we were told it was nothing serious and that Kian was just undernourished. We thought this was brilliant as Kian became much happier and he began to follow us again and doctors soon started to tell us we could go home again.  I refused and said this couldn't keep happening and I wasn't going home until some tests were done as there was clearly an underlining problem. They soon agreed and an eye test, barium swallow and MRI scan was booked in for the next day.


Our worst nightmare then began. Kian's MRI scan revealed brain abnormalities and we were blue lighted to Bristol children's hospital and were first told about the dreaded mitochondrial disease. He had very high lactic acid levels and his breathing became shallow. This all happened within 12 hours of being transferred to Bristol and he was ventilated 2 days later as Kian was no longer able to regulate his breathing on his own because of damage to his brain stem.
Kian passed away just 2 weeks after we were told he had suspected mitochondrial disease.  We were moved to Little Bridge children's hospice where we spent our last 24 hours as a family saying our goodbyes. We were able to give Kian his last bath and spend the night cuddled up together in a double bed (memories that'll last forever). We couldn't be more proud of Kian in his short life and are so happy with the time spent with him, it's just so sad it was cut too short.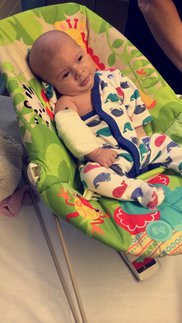 We didn't get much time with Kian but knew what he loved and what he didn't. He loved cuddles and he loved his car seat....Forever in our hearts a son we will love forever.
We now raise money for The lily Foundation in our brave little boy's memory to support other families and to join in the fight for a cure.
Jodi (Kian's Mummy) Nick (Kian's Daddy) and Angel Kian (Died age 5 months)