My son Oisin was born on 22 Jan 2007, at his 6 week check up with our GP he was referred to an eye clinic where we were advised that he had cataracts in his right eye. He was operated on at 3 months and we made regular trips up to the eye clinic thereafter. At approx 6 months old he developed cataracts in his left eye. We were advised that he would have to undergo another operation which he did shortly afterwards.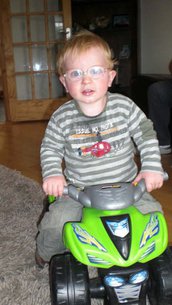 While attending the hospital we were approached by a member of the Metabolics Unit who said that they would like to run some tests on Oisin to see why he had developed cataracts.
In October of 2007 Oisin underwent a Muscle Biopsy, and on 5th Feb 2008 we were advised that he had a mitochondrial disorder.
 
Oisin was sent for further tests by the Metabolic Unit and we were advised that because of the unpredictable & variable nature of his condition they were not in a position to advise on a 'prognosis'.
 
To date (Thank God) Oisin is extremely well, he wears glasses to help his sight catch up to the norm, but in all other aspects is healthy. However it is very scary and unnerving to not know what the future holds.
Tara Kelly