Leyla was born 11 July 2007, after an uneventful pregnancy. It was only after a few months that we slowly began to notice that her fixing and following was delayed.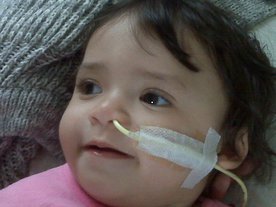 After some investigation, it was concluded to us that it may be delayed visual maturation – and was told nothing to worry about. However, feeding difficulties began, and was soon given a  naso-gastric tube to try halt and reverse the weight loss.
Further testing began to show a more serious underlying condition. At first, the doctors suspected cerebral palsy, and the lack of head control and poor body tone was of growing concern, as was the presence of some primitive reflexes which should have (by that age) disappeared. An MRI was arranged, but this yielded no diagnosis, and cerebral palsy was gradually ruled out
Very quickly, things deteriorated further, and a PEG (gastric tube) was inserted to help with feeding. At the same time, a muscle biopsy on her thigh was carried out to assist in diagnosis. This came back with reduced cytochrome c oxidase activity – a red flag for mitochondrial disease.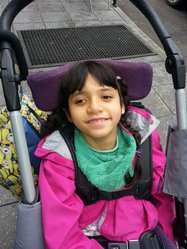 I remember when this was first discussed, and we felt devastated. Our knowledge at the time of mitochondrial disease was next to nothing – except we knew it was not good, and the likely outcome even worse. We were told it was unlikely she would live past 2 years of age.
The following years were, to put it bluntly, every parent's nightmare. Leyla was hospitalized more times than I can remember, and at certain times was on medication such as morphine, midazolam, seizure medication, anti-psychotics, and anti-parkinson's. It's painful just to recall those years.
Now 8 years old, Leyla is still severely delayed in all areas, but happier and healthier than ever. Her meds have been reduced, hospitals admissions cut down, and while still being tube fed, she now has real food instead of medical formula, and gaining weight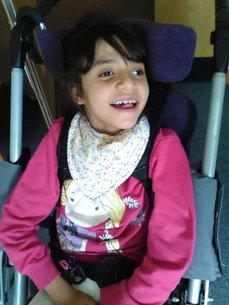 Although Leyla cannot walk, crawl, or communicate, she's our little miracle, and without doubt, one of the toughest fighters you'll ever see. Her smile is electric, and that smile and laugh tells us she's happy. She has a determination that is simply unrivalled..
While we don't know what's around the corner, we know that Leyla's strength, and our love for her, will see us through.