Ellie was two when she lost her battle with mitochondrial disease. This is her story;
Ellie was born on the morning of 15th November 2004, weighing 6lb 6oz, with big blue eyes and long eyelashes – Ellie was a perfect baby girl.  Ellie was checked by a paediatrician and allowed home later that day where she was introduced to the whole family. 
In the first couple of days at home Ellie was a little sleepy and cold, and did not want to feed.  The difficulty with feeding was a worry but at that stage was not overly alarming and it was assumed Ellie would start to feed in her own time.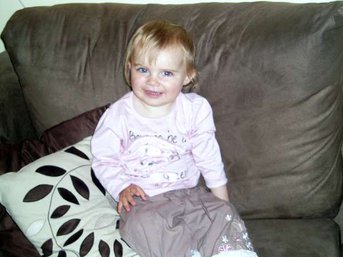 By day 3 Ellie was less responsive and not feeding at all, the health visitor suggested Ellie should be taken to the local GP.  We went straight to the surgery where a rather alarmed looking doctor noted Ellie to be pale and shutdown.  The doctor administered oxygen and Ellie was rushed by ambulance to the A&E unit at the Horton Hospital where they attempted to stabilise her. 
On the 18th November Ellie was transferred to the Special Care Baby Unit at the John Radcliffe Hospital in Oxford, we were then informed that Ellie had a 50/50 chance of survival.  The consultants told us there were three possible explanations for Ellie's condition, severe infection, heart condition or inborn error of metabolism.  Over the next few days of being in SCBU at the John Radcliffe Ellie's condition stabilised and she underwent a skin and muscle biopsy to help explain her condition. 
Whilst we were waiting for the results of the biopsy we were informed that Ellie's condition was likely to be life threatening and Ellie's life was expected to be short.  Upon hearing that news we were desperate to bring Ellie home as soon as possible to make the most of whatever time we had with her.  We were shown in hospital how to care for Ellie as she was being tube feed and how to administer life support should Ellie get into difficulty.
On the 14th December 2004, Ellie was ready to go home, before we left the hospital we were given the diagnosis that Ellie had Primary Complex I Mitochondrial Chain Enzyme Deficiency.  Ellie came home with us that day and we tried to get on with everyday life.
After being home for a week Ellie's condition worsened and she was admitted to the Children's Ward at the John Radcliffe Hospital.  The medication Ellie had been given was unable to keep her condition under control.  The consultant sought advice from Great Ormond Street and Ellie's medication was adjusted.  Ellie began to improve over the next few days and on the 25th December 2004 Ellie was allowed to come home in time for Christmas. 
Ellie continued to make steady progress although weight gain was extremely slow.  By February 2005 Ellie had decided to pull out her feeding tube and was ready to be bottle feed.  Life was as normal as it could be despite the daily medication list and the anxiety of living with the fragility of Ellie's condition.
Numerous hospital appointments at both the John Radcliffe in Oxford and Great Ormond Street were endured to monitor Ellie's condition. 
By the age of 1 Ellie was diagnosed with cardiomyopathy and by January 2006 Ellie had been prescribed heart medication after which her condition improved. 
Ellie gained weight, was able to walk and say a few words.  In the summer Ellie's personality started to really develop into a cheeky, strong willed little girl who enjoyed life particularly the Tweenies and Fimbles which she loved to watch.  
Ellie was bridesmaid at her Mummy and Daddy's wedding at the end of October 2006.  Our special girl looked like a little princess. 
On the 15th November 2006 we celebrated Ellie's 2nd birthday where Ellie demanded Happy Birthday was repeated several times with a smile which lit up the whole room. 
A few days later Ellie started to develop a cold and cough.  On the 24th November 2006 Ellie's condition rapidly deteriorated and she was airlifted to the John Radcliffe Hospital.  Ellie was treated in the paediatric intensive care unit and within 12 hours of being admitted Ellie had suffered a cardic arrest.  A further 2 cardic arrests followed and Ellie passed away at 12 minutes past midday on the 4th December 2006.
Ellie was a happy, determined little girl that despite her condition experienced a normal life, we are extremely proud of Ellie and all she achieved.  We feel very privileged for having had Ellie in our lives and are thankful for the memories of the time we had with our special little girl.   
Laura Upstone