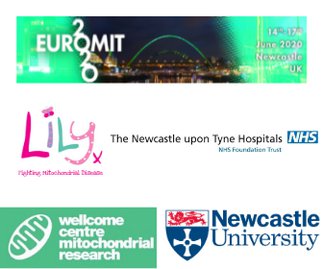 Euromit 2020 is the 11th Euromit conference on Mitochondrial Pathology and will be held at the iconic Sage Gateshead in June 2020. This major mitochondrial meeting sees global leaders in the field of mitochondrial research coming together to share recent advances in clinical and basic scientific aspects of mitochondrial biology and disease.
The Lily Foundation and the Wellcome Centre for Mitochondrial Research are proud to be co-hosting a Patient Engagement Event alongside Euromit 2020.
This exciting patient event will include expert speakers from around the world, charity stands to find out more about support services for patients & families and an evening social event which will provide an opportunity to meet others living with mitochondrial disease in a relaxed and informal setting.
The day will take place on the 16th June 2020 at Sage Gateshead. An outline of the programme can be found below: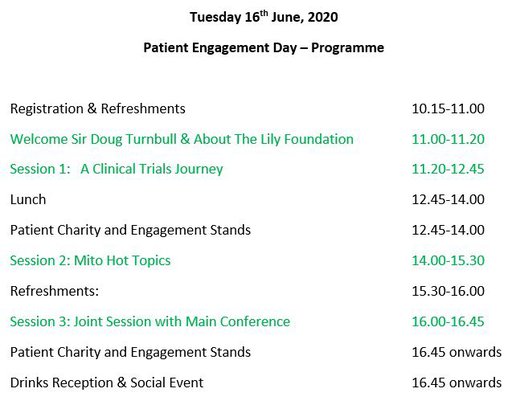 HOW MANY PEOPLE CAN COME WITH ME? 
We are able to offer each patient 2 places to the event (eg. Patient/guest/carer/family member). We may also able to offer help with accommodation costs for both attendees where needed. In situations where a 3rd/4th family member are required for logistical reasons, please add additional people to your registration. The cost of additional guests will need to be covered by yourself. 
ACCOMMODATION
Conference Accommodation can be found on the main Euromit website https://euromit2020.org/accommodation. We recommend the 'Ramada Encore' or the 'Jurys Inn' for patient accommodation, as these are both close to the venue and have accessible rooms. 
For those travelling a long distance, we may be able to support the cost of accommodation in Newcastle. Please contact [email protected] to check eligibility once you have registered your place.
CAN CHILDREN ATTEND? 
The patient engagement day is aimed at adults, so in order to ensure everyone gets the most out of the sessions and are able to hear the content, we kindly ask that where possible, parents do not bring children. If this is not possible, then there is space on the form to include children, but those over the age of 1 will count as one of the designated places. If you need to bring your children, please be aware there will be no child care facilities and children must be under the supervision and control of their parent/carer at all times and we kindly ask that you are mindful of those trying to listen to the information being given, many of whom may be hard of hearing. 
ARE THERE ANY COSTS TO ATTEND?
In order to secure your place at this exciting event, we require a £10 non-refundable deposit per person over the age of 16. You will be prompted at the end of the registration to pay this deposit. 
If you have any questions about online booking, please contact Claire Wright on [email protected]. 
Places are allocated on a first come first served basis with a deadline of the 29/2/2020. This is going to be a very popular event so we advise you complete your registration as soon as possible.
Additional useful information:
Patient Engagement Day: Lunch and refreshments provided at The Sage on Tuesday 16th June 2020.
Social Event: Drinks reception and Evening Meal at The Sage on Tuesday 16th June 2020.