Without the amazing support we get from volunteers across the country we wouldn't be able to carry out our vital work! We rely on our volunteers for activities such as cheering our participants at our sporting events, holding bucket collections and awareness stands and assisting at our fundraising events.
So, whether you can volunteer a whole day or a few hours, your support will make a huge difference to families affected by mitochondrial disease and we need your help!
To find out more about our volunteering opportunities please contact [email protected] 
If you would like to become a cheering squad member then please register for the events you are able to support. Our up and coming events are:
London Landmarks 2019 cheering squad - 24th March 2019
London Marathon 2019 cheering squad -  28thApril 2019 
Vitality 10000 2019 cheering squad - 27th May 2019
Prudential Ride London cheering squad – 29thJuly 2018 
Read about how some of our fantastic volunteers help us here.
Be part of our fantastic cheering squads!
Linda and Ged Mapp sadly lost their gorgeous grandson Aiden to mitochondrial disease in 2014 aged just 2years old. They have continued to support The Lily Foundation through volunteering as part of our cheering squad for events such as the London marathon.
As a previous participant in the event, Ged knows none too well the difference that hearing your name being called when your close the finish means! You can watch their video and read all about little Aiden's short but very special life.
Volunteer at one of our special Lily Events!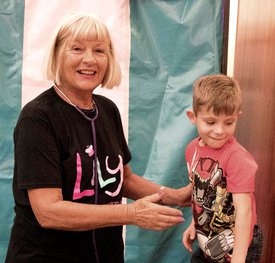 "As a volunteer to the wonderful Lily Charity I have been overwhelmed by the warmth and pride of the Lily families and the support of their friends and colleagues. I feel honoured to be part of the Family Days and their charity gala balls.  Everybody attached to the charity is full of love in their endeavour to support the families in difficult times, and in the overall quest to find a cure. The events are joyous, uplifting and very moving. They are surrounded with joy and love. I feel humble and honoured to be part of this wonderful charity" - Jenny Chatfield