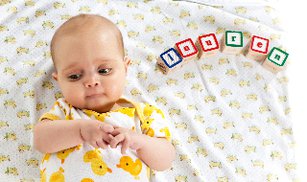 Our baby girl was born a healthy chubby little girl , a very normal 7lb 6oz, on the 23rd of October 2010. For the first 8 weeks she had a few problems with feeding but was slowly gaining weight. She had a brief hospital stay at just three weeks old after the midwife was worried about her fluctuating weight gain, but we were sent home saying there was nothing wrong. She was a lovely happy, calm baby and was so well behaved. We had a great first Christmas with her cousin and her Nan and Grandad. All was well.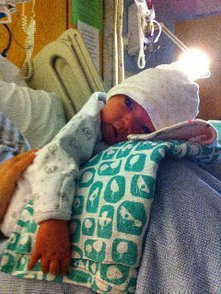 After Christmas, things started to change. Lauren stopped putting on weight and had started to be violently sick, almost projectile, after her bottles. We took her to A&E but the Doctors were not concerned. We got the "over anxious" parent treatment, getting a lecture from a SHO about what projectile vomiting was - patronising- he knew I was a nurse! We went home embarrassed but still a little concerned. We carried on but Lauren was getting harder to settle and was being sick more, but we were reluctant to take her back as maybe this was just 'normal', this is what they kept telling us after all! 
However, Lauren's eyes started to wander from side to side and she stopped developing at the rate she had been doing, unable to hold her head like other 3 month olds and tummy time was a constant battle of tears. She slept the majority of the time and when awake wanted cuddles and not much else. It was at her 12 week injections that the nurse decided my concerns were enough to get the GP to have a look and she sent us straight to the hospital, concerned that Lauren also looked a bit jaundice. We were due to fly to New Zealand to meet Lauren's family over there (her daddy is a kiwi) but it had to be cancelled, a trip that we are now unable to even do with her. The Doctors this time were fantastic, shame it took the GP to get us the right treatment, but we were getting somewhere.  They noticed her liver was slightly enlarged and she had numerous blood tests. Everything came back fairly normal, we stayed in a couple of days then were sent home with a few referrals to various doctors.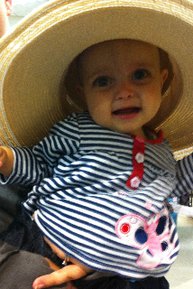 Over the next three months we saw a liver consultant, a neuro consultant, an ophthalmic consultant and various others, I don't think there was a specialist we didn't see! However no diagnosis came, she didn't fit a "profile" and the consultants were as stumped as us at this point. She had an MRI, HIDA Scan, skin biopsy, numerous blood tests and a lumbar puncture - they all came back normal. We were told these were good signs. But her Liver continued to grow, although Lauren was beginning to develop she was still not growing, age 6  months she was still in age 0-3 clothes. A bonus most mums would say, you're getting wear out of her clothes they would tell us, but we were desperate for her to grow. Eventually at seven months Lauren was booked in for a liver and muscle biopsy and bone marrow biopsy. She was unable to have the liver biopsy due to a problem with her clotting and we were told we may never know what was wrong with Lauren. 
Finally after 6 months of waiting, a diagnosis! She is showing signs of Mitochondrial Disease. Not the diagnosis we wanted but we got our relief and finally we could manage her disease and not live our lives by what ifs and maybes. Her liver at this point was growing at 1.5cms every 6 weeks. Her medications have now been changed and she has also been started on Q10 co-enzyme which seems to be suiting her as she is continuing to grow and develop, she even has two little teeth and is starting to eat solids (angel delight a favourite!). She has just had a Naso-Gastric tube fitted for overnight feeding to help her gain some very much needed weight and so far she seems to be doing just that! At 9 months old she is doing really well. She now has a physio and dietician as well as all her many consultants. She can sit, roll, wave, give kisses, clap, drink from a cup, she is holding her 
head like any child her age and is starting to develop and grow. She is obsessed with In The Night Garden and screeches and squeals at the different characters. She loves the company of other children and is a joy to be around. Everyone is always telling us how beautiful she is, and we agree!!  Her liver, at last check, hadn't grown as much as before and her Nystagmus (wobbly eye) seems to be correcting itself. Although we know what a mito diagnosis can mean for a child, we are trying to be as positive as we can. We pray she grows enough to keep accommodating her liver and that her new medication will help her to continue to grow and develop. Her diagnosis is still unknown, but she is a happy determined child who is developing and responding to her vitamins. All we can do is hope she continues in the same way she is doing now.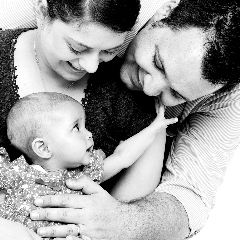 We as a family never knew this disease even existed, so surprising when it affects so many babies. There needs to be more funding, more research and hopefully a cure. In an age when they can cure many types of cancer and disease we find it hard to accept that there is no effective treatment. So like all the other parents, we will do all we can to help raise awareness and hopefully one day a cure will be found.
Claire and Mathew Tranter
11/10/11 UPDATE:
Sadly Lauren lost her fight and died today, just one week from her first birthday.