My son Noah was born on October 3, 2011 at 33 weeks via C-section. Noah was diagnosed with Cystic Fibrosis during my 20 week scan. He had an echogenic bowel and by taking bloods from my husband and I, it was determined that we were both carriers of the gene. I declined an amniocentesis because of the risk involved. We spent 4 days in Queen Charlotte's hospital before being transferred to Chelsea and Westminster, where we spent 6 months. Noah was diagnosed with SVT when his heart rate would shoot up to 260. It was controlled with medication. He also had an enlarged liver which was being monitored. Noah would not feed because of his severe acid reflux and was tube fed.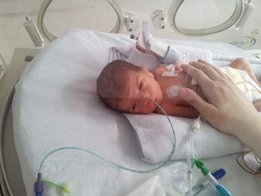 During this time he was not gaining weight.. In the end he had a Peg-J to by-pass his stomach. We finally made it home in March 2012
While we were at home he was a happy little boy. He was not developing properly and the professional staff would say it was because he was premature and spent a lot of time in hospital.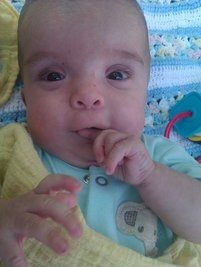 He wouldn't sit up and he never played with his feet and he could only roll onto one side, but it didn't matter because we were at home and he seemed well within himself.
We went on holiday to Torquay for my birthday. We went out to dinner and went back to the hotel and I just noticed something wasn't right with Noah. His eyes were glazed over and he would not go to sleep. He did not want to be touched, so I woke up my husband at 2am to take him to hospital. We went into A & E and things deteriorated very quickly. He was breathing very heavily and I couldn't find a nurse or the button to call the nurse, so I started him on Oxygen (things I learned at Chelsea and Westminster). My husband stayed with Noah and I ran down the corridor to find help. Noah was moved to the critical part of the hospital. Noah had a cardiac arrest. They brought him back around and he was ventilated.  We were then transfered by RAF helicopter to the Royal Brompton Hospital.
All of the tests that they performed came back negative for infections. He did have a staph infection but that was not uncommon for Noah, because of the Cystic Fibrosis. He did improve and came off the medication quite quickly for someone so poorly, but after 4 attempts to take him off the ventilator they thought there was something more wrong with Noah, they thought it might be genetic.
We were transferred to Great Ormond Street Hospital to undergo a muscle biopsy and lumbar puncture. We were seen by a neurologist and genetic teams. After the tests were transfered back to The Royal Brompton where we stayed for 8 months in total. We received Noah's results and it wasn't great news, Noah had a Mitochondrial Disease, but the specific gene was known yet. They took further bloods from Noah, myself and my husband. Sadly we still don't have a genetic answer for Noah's Mitochondrial Disease. 
Before we went home we went to Demelza Children's Hospice. We stayed there for 2 months. Noah loved it there and so did we. He had his own nurse and someone was always cuddling him,  it was a place where we could just be parents.  We finally made it home in April with nurses during the day and at night, but we were home as a family and that was something no one was sure would ever happen.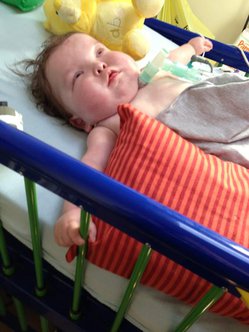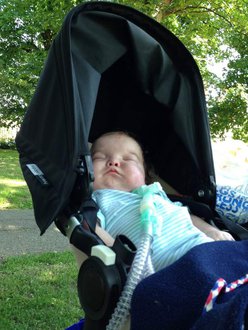 Noah sadly passed away on June 22, 2013 at 20 months old. He is missed and thought about every day.  Noah was a complex little boy but he was our perfect little angel. For everything he has went through he smiled and was loved by everyone who knew him. He was our little fighter and when most people would give up, he didn't and proved the doctors wrong and fought to the very end. I am very proud to call him my Son. We are a mother and a father to an angel. Never forgotten and will always be loved.