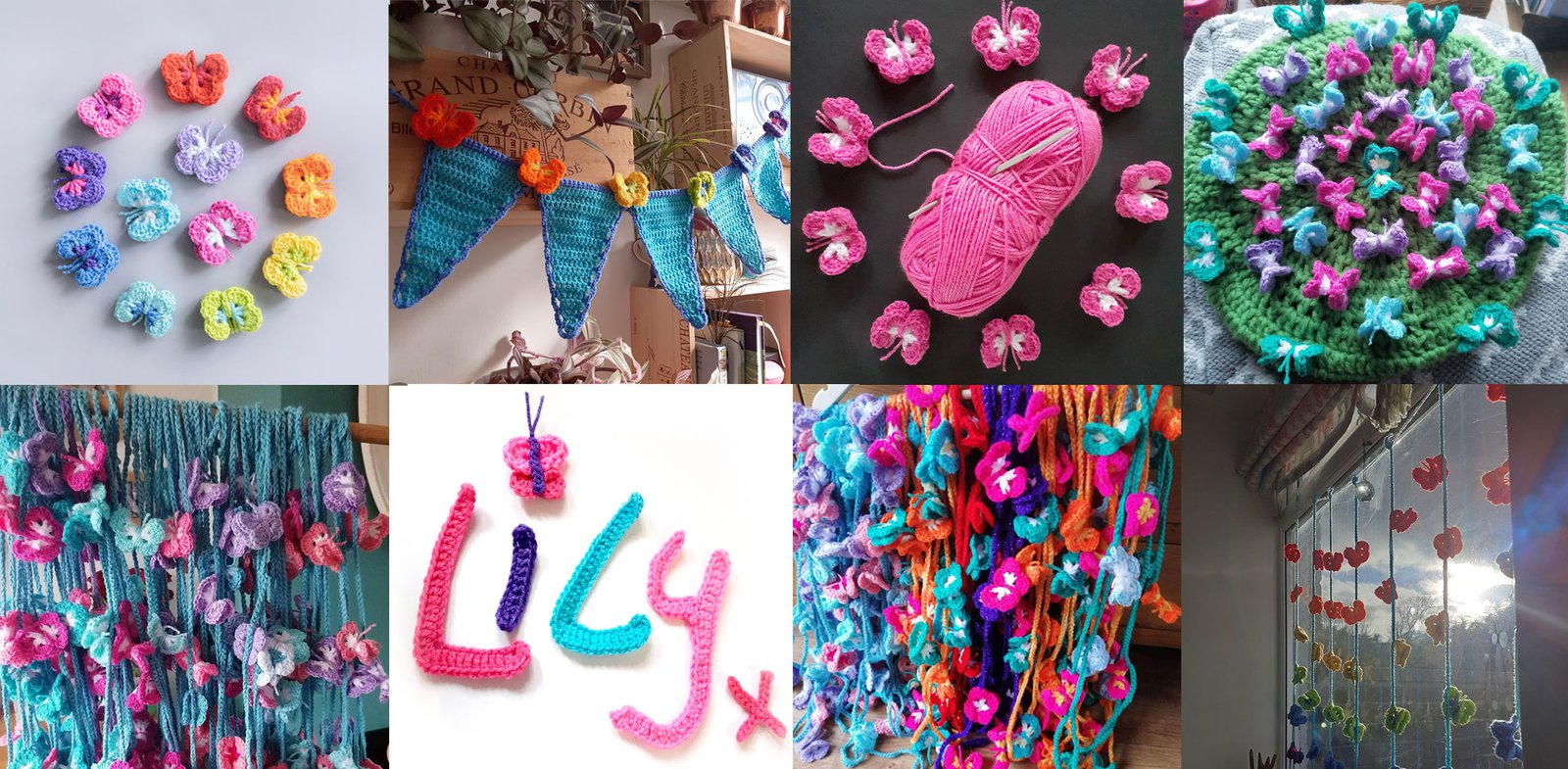 Fight mito with wool power!
Commit to Knit is a creative and fun way to make a difference in the fight against mitochondrial disease. It's also a great way to brighten up your neighbourhood and beat the lockdown blues!
Knitting and crocheting have caught on in a big way during lockdown, and it's easy to see why. Making things with wool is relaxing, rewarding, easy to learn, and you can do it without leaving the sofa!  
By taking part in Commit to Knit, you can fuel your creativity and put your 'wool power' to work fighting mito. Whether you're a knitting ninja or just starting out, every stitch is for a good cause.
Fuel your creativity
When you sign up, we'll send you a starter kit containing all you need to knit or crochet some beautiful Lily butterflies – our symbol of hope in the fight against mito. The kit includes an easy-to-follow pattern, wool, crochet hook and handy Lily tote bag. 
Once you've caught the knitting bug, where you go from there is up to you. The sky's the limit!
Knit your way
There are loads of great ways you can fight mito with 'wool power'. We've listed a few here, but do let us know your ideas as we'd love to share them! 
Set yourself a personal challenge and invite people to sponsor your knitting. How many butterflies can you make? Just think, if 10 friends sponsor you 10p per butterfly, and you knit 100 butterflies, that's £100 raised!


Welcome in the spring and raise awareness with a colourful display of knitted butterflies in your window, along with the #MitoAware hashtag. Share and invite others to do the same.
Make your butterflies into brooches to give as gifts to raise awareness, or sell them to raise funds. Every brooch worn could start an important conversation about mito.


Form a knitting team and 'yarn bomb' your street with colourful woolly creations. Popular yarn bombing ideas include hats for post boxes, scarves for lampposts and woolly jumpers for trees, benches and even cars! Google 'yarn bombing' for more bright ideas.


Share your creations on social media to raise awareness and get others involved. Don't forget to tag us in and include #MitoAware and #LilyFoundation hashtags.


Invite your community to get involved. Why not make a poster inviting people to take part or donate, and display it in your local nursery, grocery store or coffee shop, along with a knitted butterfly or two?
Set up your personal JustGiving page
To help make your fundraising easier, we've set up a dedicated JustGiving campaign page. Use it to set up your own Commit to Knit fundraising page, and inspire people to give with your personal mito story. 
Join the global effort
Covid permitting, we're hoping to organise a nationwide display of knitted butterflies for Global Mitochondrial Disease Week in September. So please hang on to any butterflies you have left over from your Commit to Knit event, as we might need them!
Sign up and get knitting!
Registration costs £10 and includes your Commit to Knit kit, along with a colourful tote bag. 
Every penny raised will help fund vital research into mitochondrial diseases, and help improve the lives of those affected. 
Thanks for getting involved and making a difference!